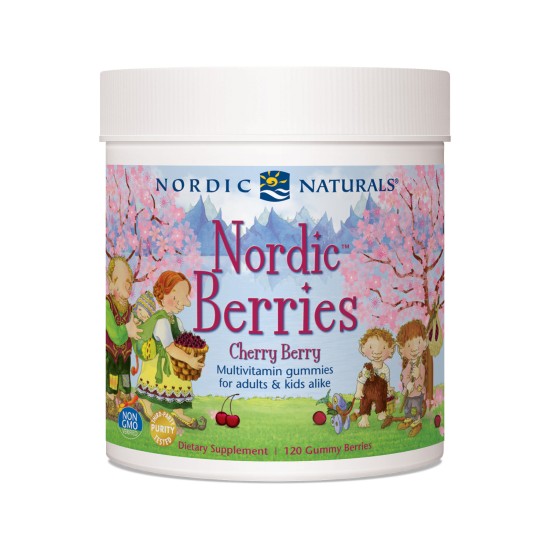 Nordic Naturals, Nordic Berries Cherry Berry, 120 Gummy Berries
Nordic Naturals
AED 149.25
AED 199
(VAT inc.)
Gives kids the daily vitamins and minerals they need
Great tasting, gluten-free gummy
Chewable, pectin-based multivitamin
Provides essential nutrients-including zinc and vitamins A, B, C, D3, & E
These tasty, chewy multivitamins provide essential vitamins and minerals for kids and adults alike. Just like our classic sweet-and-sour citrus flavor, Nordic Berries cherry berry supports growth during the early years and health maintenance at every stage of life. It delivers the same quality you have come to expect from Nordic NatThese tasty, chewy multivitamins provide essential vitamins and minerals for kids and adults alike. Just like our classic sweet-and-sour citrus flavor, Nordic Berries cherry berry supports growth during the early years and health maintenance at every stage of life. It delivers the same quality you have come to expect from Nordic Naturals omega-3 supplements and makes an ideal companion to any of our premium children's fish oil products omega-3 supplements and makes an ideal companion to any of our premium children's fish oil products.• Chewable, pectin-based multivitamin for ages 2+• Provides essential vitamins and minerals that growing kids need, including zinc and vitamins A, B, C, D3, and E• Delicious cherry berry flavor• No artificial coloring, flavoring, or preservatives• Ideal companion to any Nordic Naturals omega-3 product
For 2 years and older, four Nordic Berries daily with food, or as directed by your healthcare professional or pharmacist.
Please ensure the child chews each gummy thoroughly.
organic sugar, prebiotic fiber (from tapioca), purify ed water, pectin, citric acid, malic acid, sodium citrate, rice syrup solids, fruit and vegetable juice (for color), and natural Flavor (in sunflower oil). No gluten, milk derivatives, No artificial colors, flavors, sweeteners, or preservatives.