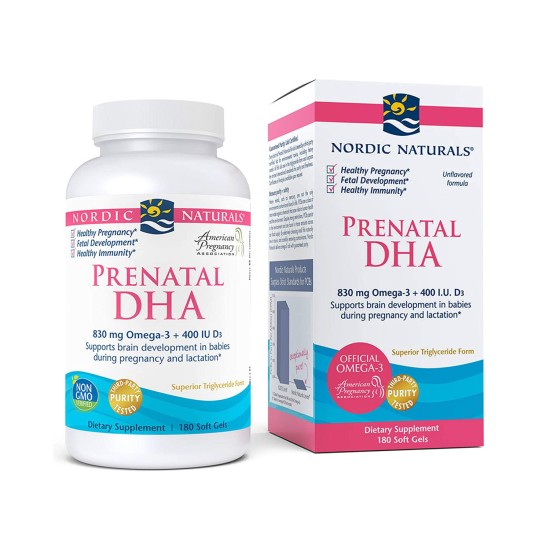 Nordic Naturals, Prenatal DHA 90 Softgels
Nordic Naturals
AED 176.25
AED 235
(VAT inc.)
480 mg of DHA per serving generously fulfills expert-recommended daily DHA
400 I.U. vitamin D3 for bone and mood support
Unflavored soft gels for sensitive palates
Small, easy-to-swallow soft gels
Supports optimal brain and visual development in babies
Mood support for moms throughout all stages of pregnancy
Triglyceride form for better absorption of essential omega-3s
As the official omega-3 of the American Pregnancy Association, Prenatal DHA is the ideal supplement before and during pregnancy. With 480 mg DHA per serving, Prenatal DHA generously fulfills the international expert recommended daily intake for DHA, providing safe and effective omega-3 nutrition to moms and babies alike. Plus, we've added 400 I.U. vitamin D3 (cholecalciferol), the natural form of vitamin D produced by the body, for strong bones and mood support.• 480 mg of DHA per serving generously fulfills expert-recommended daily DHA.• 400 I.U. vitamin D3 for bone and mood support.• Unflavored soft gels for sensitive palates.• Small, easy-to-swallow soft gels.• Supports optimal brain and visual development in babies.• Mood support for moms throughout all stages of pregnancy.• Triglyceride form for better absorption of essential omega-3s.
Two softgels daily, with food, or as directed by your healthcare professional or pharmacist.
Total Omaga-3S, Epa(Eicosapentaenoic Acid), Dha (Docosahexaenoic Acid), Other Omega-3S. Purified Deep Sea Fish Oil (From Anchovies And Sardines), Soft Gel Capsule (Gelatin, Glycerin, Water), D-Alpha Tocopherol, (Antioxidant), Vitamin D3, (Olive Oil, Cholecalciferol).