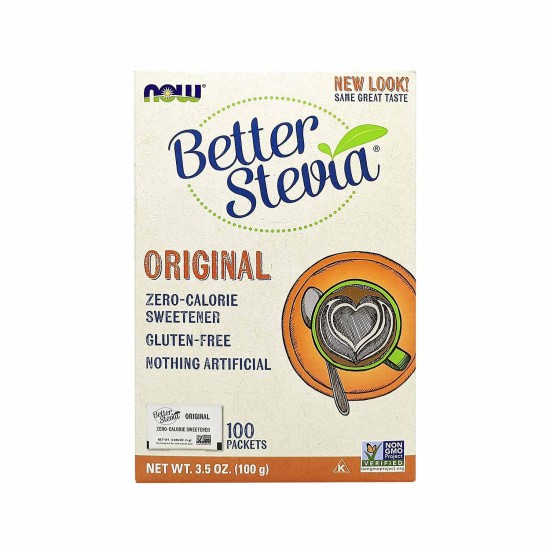 Now Foods Betterstevia 100 Packets
Now Foods
Plant-derived, natural and Non-GMO
Kosher certified
Zero-calorie and low in glycemic and low in sodium
No bitter aftertaste
Free from sugar and gluten
Suitable for vegans and vegetarians
BetterStevia Packets - Zero-Calorie SweetenerBetterStevia utilizes a whole leaf extract that retains the pure sweetness of real stevia, as opposed to other products that have only isolated fractions, such as Rebaudiana A (Reb A). Our stevia is processed using a special enzymatic treatment that results in a clean, superior-tasting stevia extract. Our focus on quality and freshness gives BetterStevia a well-rounded, sweet taste that's very close to that of pure sugar.BetterStevia is perfectly a healthy substitute for table sugar and artificial sweeteners. Unlike chemical sweeteners, BetterStevia is a pure stevia extract and is easily utilized by the body and metabolized in the same way nutrients are. With a taste that is naturally 60-100 times sweeter than refined sugar. We take special measures to preserve stevia's natural qualities in this unique, pure, better-tasting stevia.• Plant-derived, natural and Non-GMO • Kosher certified • Zero-calorie and low in glycemic and low in sodium • No bitter aftertaste• Free from sugar and gluten. • Suitable for vegan and vegetarians.
Use to naturally sweeten your favorite beverages and foods. Sweeten to taste. Remember a little BetterStevia™ goes a long way.
Rice Maltodextrin, Certified Organic Stevia Leaf Extract, Silica.