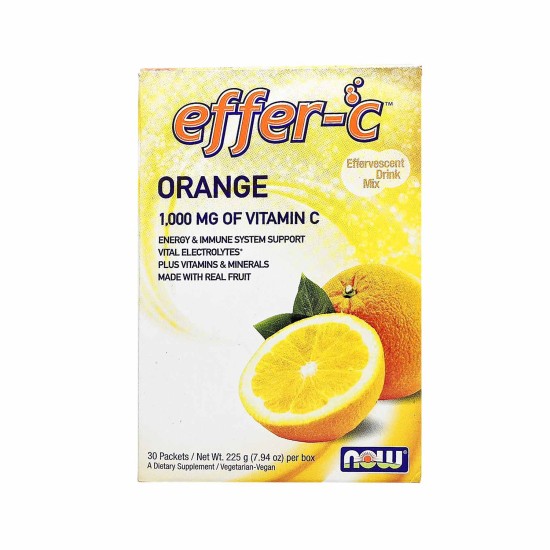 Now Foods Effer-C Orange Packets 30 Packets
Now Foods
Made with Real Fruit
Kosher certified
Free from Nuts, egg, dairy, and gluten
Suitable for vegans and vegetarians.
Effer-C Orange Packets - Effervescent Drink MixEffer-C is a proprietary blend that's loaded with the essential vitamins and minerals necessary to support optimal wellness. It's designed to quickly and efficiently replenish the vital electrolytes needed to keep you running strong all day. Effer-C provides 1,000 mg of Vitamin C, including Transport C-PLUS, a buffered form combined with Alpha Lipoic Acid for fast assimilation.Effer-C also supplies a full complement of B Vitamins as well as seven minerals to support energy production and help restore important electrolytes. We've included CoQ10 and Alpha Lipoic Acid for added metabolic support. Instead we've sweetened this unique formula with Xylitol and BetterStevia for nature's perfect touch of sweetness. • Energy & Immune System Support*• Vital Electrolytes*• Plus Vitamins & Minerals• Made with Real Fruit• Effervescent Drink Mix• Kosher certified. • Free from Nuts, egg, dairy and gluten.• Suitable for vegan and vegetarians.
Empty 1 packet daily into 4 to 6oz. Of water
Vitamin A (100% As Beta-Carotene)120Mcg, Vitamin C(As Ascorbic Acid And From Calcium Ascorbate)1000Mg,Thiamin(Vit B-1)0.76Mg,Riboflavin(Vitamin B-2)0.5Mg, Niacin(As Niacinamide) 10Mg, Vitamin B-6(From Pyridoxine) 10Mg, Folate 25.5Mcg, Vitamin B-12(As Cyanocobalamin)30Mcg, Pantothenic Acid (From Calcium Pantothenate)2.5Mg, Calcium(From Calcium Ascorbate And Calcium Pantothenate)20Mg, Magnesium (From Manganese Carbonate)60Mg, Zinc(From Zinc Ascorbate)5Mg, Manganese(From Manganese Carbonate)1Mg, Chromium (From Chromium Ascorbate And Chromium Aspartate)20Mcg, Sodium(From Sodium Bicarbonate)50Mg, Potassium(From Potassium Bicarbonate)180Mg, Transport C-Plus(Trademark Blend Of Calcium Ascorbate And Alpha Lipoic Acid)230Mg, Alpha Lipoic Acid 5Mg, Coq10(Coenzyme Q10)5Mg, Natural Orange Juice Powder 600Mg, Organic Turbinado Sugar, Citric Acid, Tartaric Acid, Silicon Dioxide, Malic Acid, Natural Orange Flavor, Aspartic Acid And Organic Stevia Leaf Extract (Enzyme-Modified Steviol Glycosides). Contains Soy (Oil).