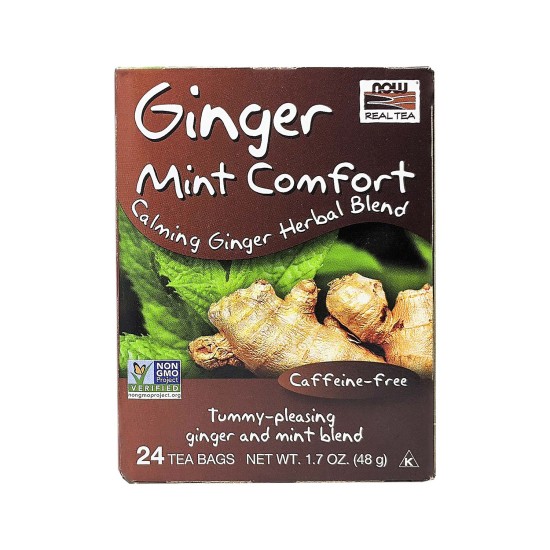 Now Foods Ginger Mint Comfort Tea 24 Tea Bags
Now Foods
Premium unbleached tea bags with our no-staples design
Free from artificial colors, flavors, preservatives, sugar, caffeine, and gluten
Non-GMO and low in sodium
Suitable for vegans and vegetarians
Ginger Mint Comfort Tea, Calming Ginger Herbal BlendMaybe that giant slice of pizza was just too irresistible or your friends talked you into going to that spicy thai noodle spot. Whatever the case, you're feeling a little fed up. Ginger Mint Comfort Tea was created to help calm that upset stomach with soothing after-meal tonic, an array of specialized calming herbs trained in anger management.• Ginger and mint blend for calming relief from minor digestive upset. • Premium unbleached tea bags with our no-staples design.• Free from artificial colours, flavors, preservatives, sugar, caffeine and gluten. • Non-GMO and low in sodium • Herbal tea suitable for vegan and vegetarians.
Instructions: Steep one tea bag in 6-8 ounces of boiling water for 4-6 minutes. Stir occasionally while steeping.
Ginger Root, Peppermint Leaves, Spearmint Leaves, Licorice Root, Fennel Seed., .