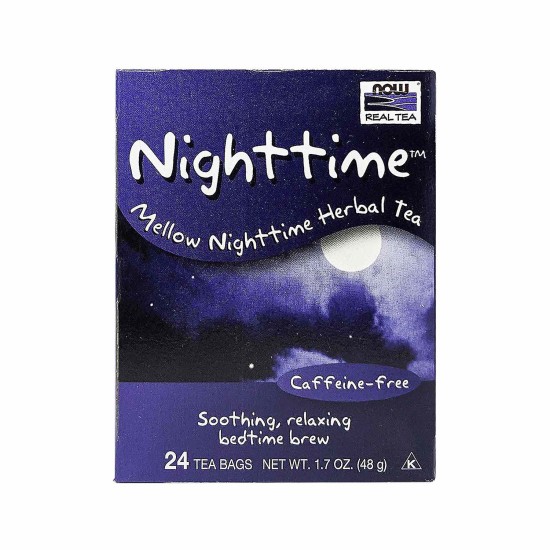 Now Foods Nighttime Tea 24 Tea Bags
Now Foods
Soothing, relaxing bedtime brew
Premium tea bags with our no-staples design
Free from artificial colors, flavors, preservatives, sugar, caffeine, and gluten
Non-GMO and low in sodium
Suitable for vegans and vegetarians
Mellow Nighttime Herbal Tea. No matter how hard we try, sometimes it's simply impossible to let go of the day's events and unfinished to-do lists. Here's the perfect solution. Nighttime is a tranquil, mellowing blend of botanicals known for their soothing and relaxing qualities. Dim the lights, sip a cup and let mother nature do her thing. Sweet dreams…• Soothing, relaxing bedtime brew• Premium tea bags with our no-staples design• Free from artificial colours, flavors, preservatives, sugar, caffeine, and gluten. • Non-GMO and low in sodium • Suitable for vegan and vegetarians.
Steep one tea bag in 6-8 ounces of boiling water for 4-6 minutes. Stir occasionally while steeping.
Spearmint Leaves, Chamomile Flowers, Licorice Root, Lemon Myrtle Leaves (Backhousia Citriodora), Natural Flavors, Skullcap (Herb), Passionflower (Herb), Linden Leaves, Eleuthero Root, Organic Stevia Leaf Extract., .