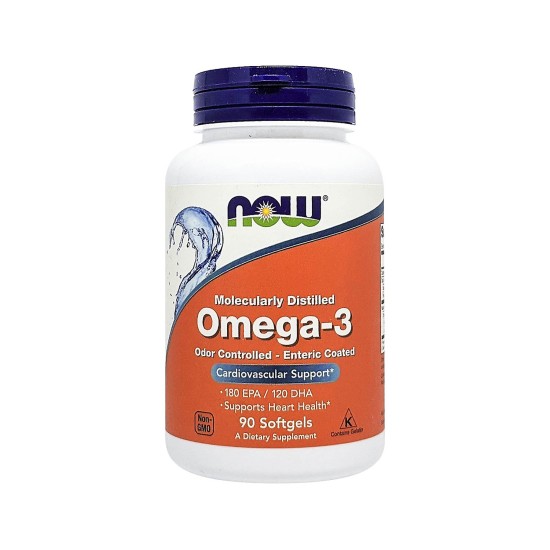 Now Foods Omega-3, Enteric Coated 90 Softgels
Now Foods
Supports heart health
Halal
Non-GMO
Free from Wheat, Gluten, Dairy, Egg, Fish, Shellfish, Corn and Tree nut
Omega-3, Enteric Coated Softgels - Cardiovascular SupportThis natural fish oil concentrate is manufactured under strict quality control standards. It is tested to be free of potentially harmful levels of contaminants such as PCBs, dioxins, mercury and other heavy metals. Those who experience nausea or reflux from other fish oils should find this enteric-coated, odor-controlled Softgels easier to tolerate. Natural color variation may occur in this product.• Molecularly Distilled• Odor Controlled - Enteric Coated• 180 EPA / 120 DHA• Supports Heart Health• HALAL• Non-GMO• Free from Wheat, Gluten, Dairy, Egg, Fish, Shellfish, Corn and Tree nut.
As a dietary supplement, take 1 softgel 1 to 3 times daily with food.
Calories 10; Total Fat 1 G; Saturated Fat ≪ 0.5 G; Polyunsaturated Fat 0.5 G; Natural Fish Oil Concentrate 1 G ( 1,000 Mg); Omega-3 Fatty Acids: Eicosapentaenoic Acid (Epa) 180 Mg; Docosahexaenoic Acid (Dha) 120 Mg., Softgel Capsule (Bovine Gelatin, Glycerin, Enteric Coating, Water) And Natural D-Alpha Tocopherol. Contains Fish (Anchovies). Natural D-Alpha Tocopherol From Soy.