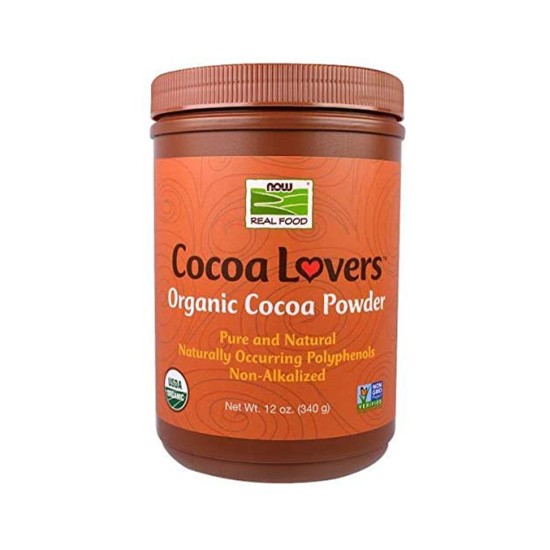 Now Foods, Real Foods Cocoa Lovers Organic Cocoa Powder 340 gm
Now Foods
Pure and natural
Non-alkalized
Organic
Cocoa Lovers Organic Cocoa Powder is a guilt-free way to satisfy your sweet tooth without the sugar, fat, and preservatives commonly found in other brands. From mouth-watering desserts to steaming cups of hot chocolate, cocoa powder is a must for any kitchen. We source our cocoa powder from several of the world's largest and finest cocoa processors.
The Perfect Cup of Organic Hot Cocoa:2 tsp NOW® Real Food Organic Turbinado Sugar1 tsp NOW® Real Food Organic Cocoa Powder1/2 cup water1 cup organic milk1/4 tsp Ellyndale Organics® vanilla extractDirections:Place sugar, cocoa, and water into a saucepan on medium heat.Allow for mixture to reach a soft boil.Add milk and heat for an additional 3 minutes.Remove from heat and whisk in vanilla.Serve warm and enjoy!For additional recipes visit NowRealFood.com
Organic Cocoa Powder. Contains No:Á Sugar, Salt, Starch, Yeast, Wheat, Gluten, Corn, Soy, Milk, Egg Or Preservatives.