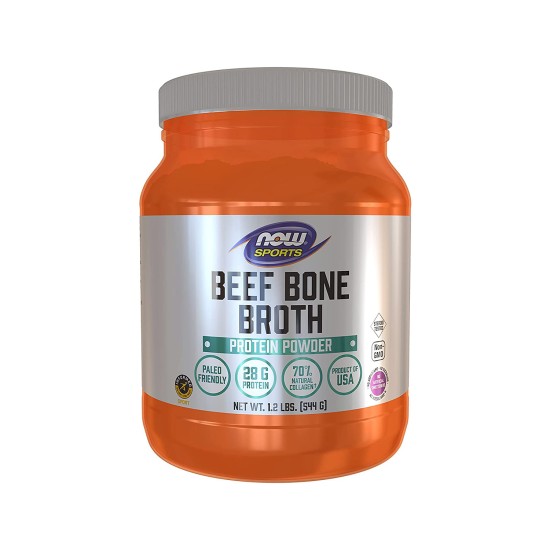 Now Sports Beef Bone Broth Protein Powder 1.2Lbs
Now Foods
Protein powder
Without artificial ingredients
NOW Sports Beef Bone Broth Powder is a premium-quality beef bone extract that has 28 g of protein per serving. Beef bone broth is a common food base in many cultures and has naturally occurring protein, amino acids, collagen and more. This paleo-friendly protein product is made without artificial ingredients, and is free of many common allergens, making it an ideal protein for individuals with food sensitivities. NOW Sports Beef Bone Broth Powder can be mixed in water and is a tasty and convenient way to ensure you're getting the protein your active lifestyle requires. This beef bone broth powder typically has 70% naturally occurring collagen.
Add 1 level scoop daily to 8 oz. of water or other beverage. To improve mixability, slowly add powder to boiling water and whisk continuously until the powder has dissolved. May be added to soups, sauces, or other foods.
Essential Amino Acids: L-Histidine, L-Isoleucine, L-Leucine, L-Lysine, L-Methionine, L-Phenylalanine, L-Threonine, L-Tryptophan, L-Valine. Non-Essential Amino Acids, L-Alanine, L-Arginine, L-Aspartic Acid, L-Cysteine, L-Glutamic Acid, Glycine, L-Hydroxyproline, L-Proline, L-Serine, L-Tyrosine. Ingredient: Beef Bone Broth Concentrate Powder.