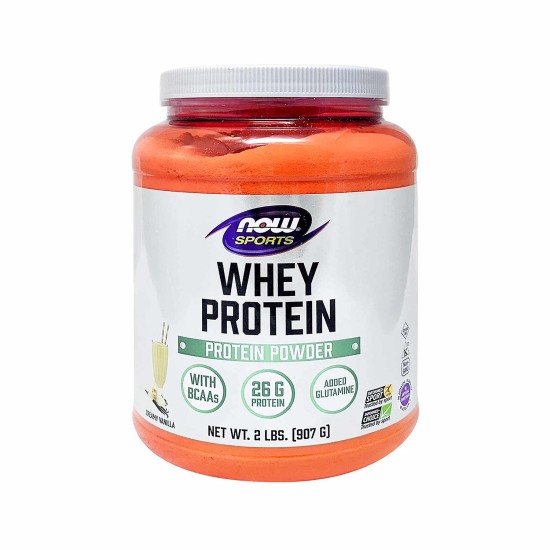 Now Sports, Whey Protein Vanilla Powder 907 gm
Now Foods
No Artificial Ingredients
Ultrafiltered, Microfiltered
With Branched Chain Amino Acids
Added Glutamine
High protein
Free from Wheat, Gluten, Dairy, Egg, Fish, Shellfish, and Tree nut
Whey Protein Dutch Chocolate Powder - Dutch ChocolateNOW Whey Protein is a delicious blend of three of the highest quality whey protein concentrates and isolates from around the world: Ultrafiltered, Microfiltered and Enzymatically Hydrolyzed (partially predigested). This blend of specially processed whey proteins is designed to maximize amino acid absorption and Biological Value (BV). In addition, extra L-Glutamine has been added (420 mg per serving) to this blend. Whey protein is considered to have the highest BV of any protein source – superior in essential amino acid content to beef, milk, casein or soy. This product is sold by weight not volume.• No Artificial Ingredients• Ultrafiltered, Microfiltered• With Branched Chain Amino Acids• Added Glutamine• High protein • Free from Wheat, Gluten, Dairy, Egg, Fish, Shellfish, and Tree nut.
As a Dietary supplement Add 1 level scoop daily to 8 oz. of cold water or milk. Stir or blend.
Whey Protein Concetrate 26G Essential Amino Acids Per Serving: L-Histidine525, L-Isoleucine 1458, L-Leucine2873 , L-Lysine 2226, L Methionine 558 , L-Phenylalanine 849 , L-Threonine1790 , L-Tryptophan458, L-Valine1382 Non-Essential Amino Acids: L-Alanine 1895 , L-Arginine 663 , L-Aspartic Acid 2777 , L-Cysteine458 , L-Glutamic Acid 4326 , L-Glutamine420 , Glycine 492, L-Proline1353 , L-Serine1491 , L-Tyrosine861., Natural Vanilla Flavor, Xylitol, Whey Protein Isolate, Whey Protein Hydrolysate, Xanthan Gum, L-Glutamine, Organic Stevia Leaf Extract.