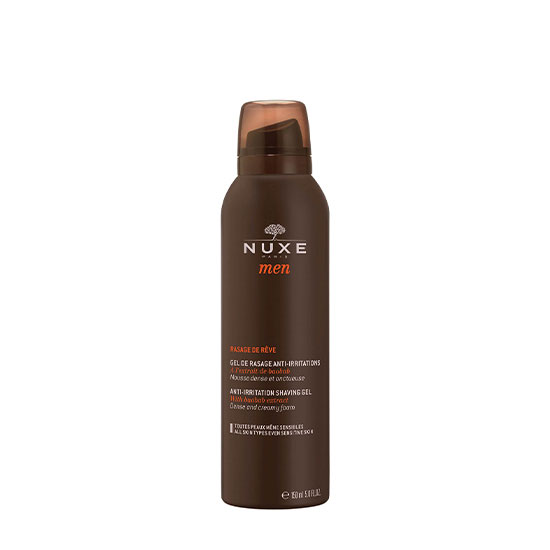 Nuxe Anti-Irritation Shaving Gel Aerosol Men 150ml
Nuxe
Men's shaving gel
thick and creamy foam
For all skin types, including sensitive skin
Contains 80 % natural origin ingredients
Skin is more supple and flexible
Helps to swell the hair to enable the blade to pick it up and reduces the appearance of ingrown hairs
Improves precision shaving by encouraging the blade to slide on the skin while restoring the hydrolipidic film
This gel shaving foam is dense and creamy with sandalwood extract for an easy, close shave with no skin irritations. A masculine, woody, and spicy fragrance. It is suitable for all skin types, including sensitive skin.
This shaving gel improves precision shaving by encouraging the blade to slide on the skin while restoring the hydrolipidic film (Sandalwood and Phellodendron). It also helps to swell the hair to enable the blade to pick it up and reduces the appearance of ingrown hairs (Urea Derivative).
The skin is more supple and flexible (Vegetal Glycerin).
Shake the bottle well and apply a small amount of gel to your moist face. Massage, lather, and shave as usual. Rinse with water after shaving. In order to soften the beard and improve the shave while reducing razor burn, spray on Huile Prodigieuse® into the palm of your hands and apply to the beard before. Rinse after shaving. Warning: 5,5% by mass of the contents are flammable. Pressurized container: May burst if heated. Keep out of reach of children. Keep away from heat, hot surfaces, sparks, open flames, and other ignition sources. No smoking. Do not pierce or burn, even after use. Protect from sunlight. Do not expose to temperatures exceeding 50°c/122°F.
This Shaving Gel Improves Precision Shaving By Encouraging The Blade To Slide On The Skin, While Restoring The Hydrolipidic Film (Sandalwood And Phellodendron).