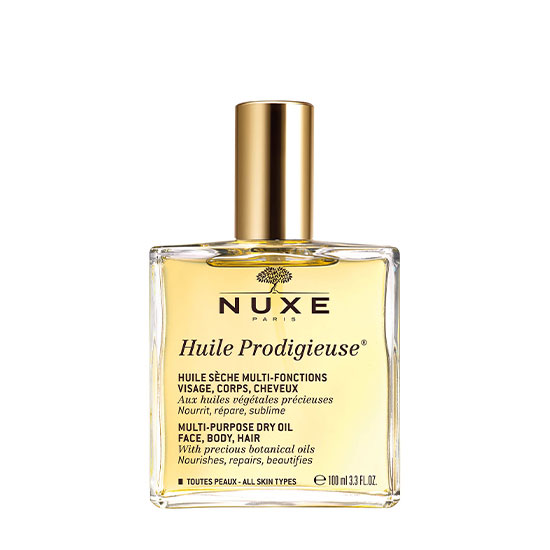 Nuxe Huile Prodigieuse Multi-Purpose Dry Oil 100ml
Nuxe
AED 179.26
AED 224.07
(VAT inc.)
Hydrating Dry Oil for Face, Body, and Hair
Serves up a moment of real pleasure
Reduces the appearance of stretch marks
The legendary skincare treatment with seven precious botanical oils and 98% natural ingredients provides long-lasting hydration for the face and body. Its antioxidant action and "anti-pollution shield effect" and its power to reduce the appearance of stretch marks make it your everyday ally. With its inimitable dry oil texture and its addictive fragrance with sunny, sensual notes, Huile Prodigieuse serves up a moment of real pleasure.
Use Huile prodigieuse® all year round, winter or summer, on your face, body, and hair.
On your face, apply once a day using smoothing strokes, working from the center toward the contours of your face and décolleté. It can be used on its own or by mixing a few drops in the palm of your hand, together with your Ultra-comforting face cream Rêve de Miel.
On your body, massage into desired areas (bust, legs, etc.) and over-stretch marks using circular movements.
On your hair, it can be used as a hair oil on the lengths and ends as often as required. For an intense conditioning effect, apply to your hair once or twice a week as a mask for 10 minutes before shampooing.
7 Precious Botanical Oils: Highly Nourishing And Anti-Ageing Tsubaki Oil, Softening Sweet Almond Oil, Moisturising Camellia Oil, Anti-Wrinkle Borage Oil, Soothing Hazelnut Oil, Nourishing Macadamia Oil And Repairing Argan Oil.Free From Preservatives, Silicone And Mineral Oils.
Frequently Bought Together
Choose items to buy together