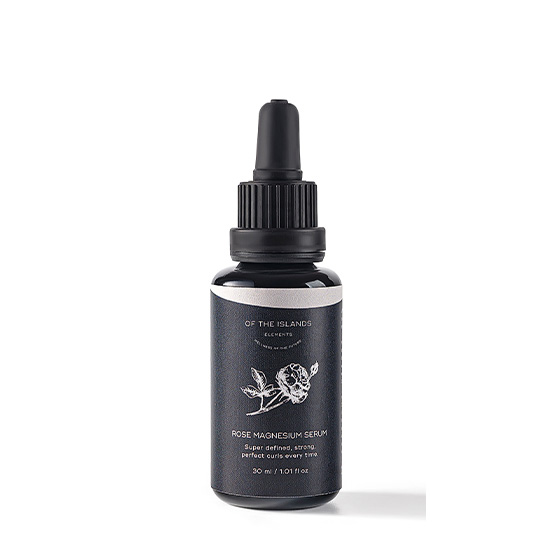 Of The Islands Wild Rose And Magnesium Hair Detox
Of the islands
Rose Magnesium Hair Serum is a second chance for your hair. Second chance to breathe new life and vivacity into your strands. Today our hair is put through a lot of stress from exposure to pollution, environmental damage, over processing and product build up. All these harmful particles can accumulate in the hair and scalp. This can can lead to hair becoming limper, weight down, duller, and difficult to manage. The chemical overload can also disrupt the natural balance of hair and make it either too oily or too dry. Sometimes your favorite hair products just seem to "stop working" for no apparent reason, and in actuality the result of chemical overload and imbalance. OF THE ISLANDS Rose Magnesium Serum has been formulated with synergistic nature based ingredients to help detox the hair from built up of damaging particles and help to return it to it's best shape.
Use weekly. After washing your hair (and do take care to use a good natural shampoo), towel dry and apply recommended amount for your length of hair by rubbing the product between the palms of your hands and then spreading it lightly all throughout your hair. A little bit or this potent concentration goes a long way! So don't exceed the recommended amount. Do not use for 48 hours after hair coloring treatments.Long hair (below the shoulders): Use about half pipette. Short hair: Use about 5 drops.Hair and Scalp Detox: For best results try it together with OF THE ISLANDS Magnesium Scrub. Wet your hair, gently massage small amounts of scrub all over your scalp. (About 1 tea spoon amount should be enough). Leave on for a minute letting the magnesium penetrate the scalp. You may feel tingling, even slight stinging. Rinse out. Your scalp will feel refreshed and cool. Wash and condition your hair as usual. Apply Rose Magnesium Serum to towel dried hair and style as usual.
Glycerin, Aqua, Magnesium Chloride, Rosa Damascena Flower Extract, Sodium Chloride, Potassium Chloride, Aloe Barbadensis Leaf Extract, Magnesium Sulfate, Citric Acid, Calcium Chloride, Potassium Sorbate, Sodium Benzoate, Sodium Sulfate.