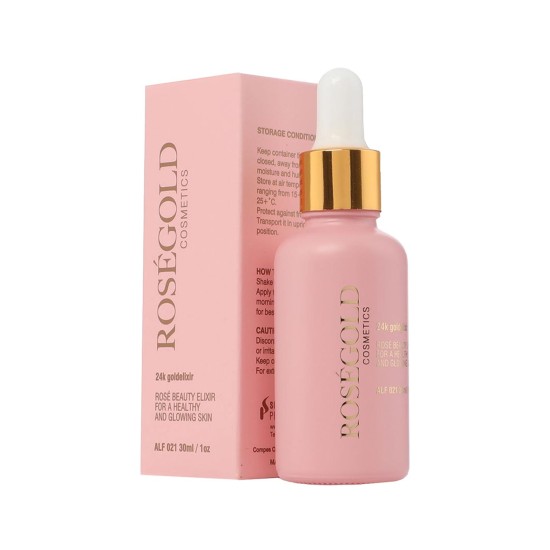 Rosegold Cosmetics 24K Gold Elixir 30ml
Rosegold Cosmetics
Face Serum that treats melasma
Healthy and glowing skin
Rose Beauty Elixir for healthy and glowing skin 24K gold elixir. Rose Gold serum treats melasma, a condition of common pigmentation disorder that causes brown or gray patches to appear on the skin, primarily on the face.
Shake well before use.
Apply to face and neck, morning and night for best results.
Prunus Amygdalus Dulcis,(Sweet Almond) Oil, Isohexadecane, Ethylhexyl Stearate, Dicaprylyl Carbonate, Coco-Caprylate, Simmondsia Chinensis, (Jojoba)Seed Oil, Citrus Aurantium Dulcis,(Orange) Peel Oil, Limonene, Tocopheryl Acetate, Titanium Dioxide, Mica, Vitis vinifera(Grape)Seed Oil, Punica Grantum, (Pomegranate) Seed Oil, Helianthus, Annuus, (Sunflower) Seed Oil, Tocopherol, Caprylic/Capric Triglyceride, Silica, Ascorbyl Palmitate, Linalool, Citral, Citronellol, Citric Cacid, Ascorbic Acid, Geraniol, Gold, Ci 40800(Beta-Carotene), Vitamin E