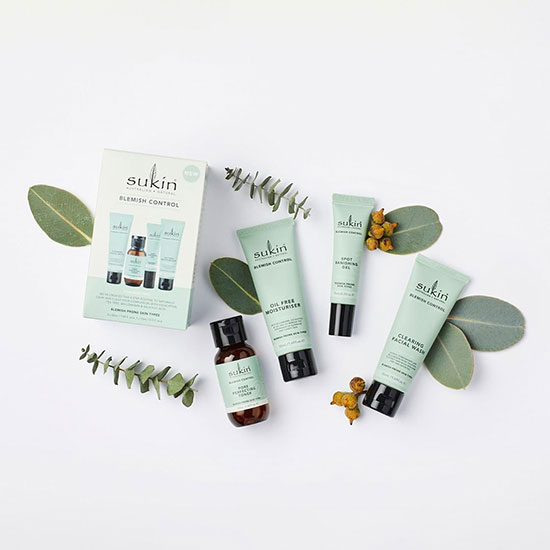 Sukin Blemish Control 4 Step Blemish-Prone Skin Types
Sukin
AED 73.5
AED 105
(VAT inc.)
4-step Blemish Control Kit routine
Contains Eucalyptus, Tea Tree & Salicylic Acid
Blemishes? Banish them, naturally with our 4-step Blemish Control Kit routine to calm and clear your complexion, from blemish-fighting Eucalyptus, Tea Tree, Willowherb & Salicylic Acid.
Step 1: Clearing Facial Wash to purify the skin while removing dirt and impurities with Quince and Pomegranate.
Step 2: Pore Perfecting Toner to refine and refresh the skin with Eucalyptus & Tea Tree.
Step 3: Spot Banishing Gel to take care of any breakout emergencies with Willowherb, Salicylic Acid & Eucalyptus.
Step 4: Oil-Free Moisturiser to clarify and balance skin through Willowherb, Quince & Moringa.
TIP: Our Oil Balancing Anti-Pollution Facial Masque is great to use alongside our Blemish Control Range, as added Charcoal helps remove excess oils on the skin, preventing the clogging of pores. You can use it once or twice a week.
Facial Wash: Apply a small amount to hands and lather with water. Gently massage into skin and then rinse thoroughly with water.
Pore Perfection Toner: Soak a cotton pad or cloth and gently wipe over the face after cleansing.
Oil-Free Moisturizer: Apply to face, neck, and décolletage morning and/or evening after toning.
Spot Banishing Gel: Apply a small amount to the fingertip and apply to the face as needed.
Salicylic Acid, Eucalyptus, Tea tree, Willowherb, Pomegranate, Quince, Moringa