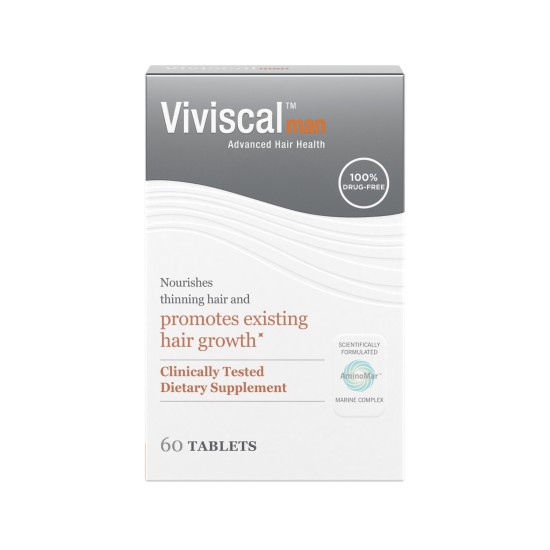 Viviscal Man Hair Growth Supplements 60 Tablets
Viviscal
AED 202.13
AED 288.75
(VAT inc.)
Hair Supplement for Hair Tablets
Enriched with Zinc and Vitamin C
If your diet lacks specific essential nutrients for hair, including vitamins, minerals, or proteins, it can affect the condition and strength of hair. Male pattern baldness occurs when dihydrotestosterone (DHT) is produced in the body, which inhibits hair growth by preventing the supply of nutrients to the hair follicle, and ultimately this can lead to male hair loss.
Viviscal Man hair growth supplements contain the exclusive marine complex AminoMar®, as well as healthy hair nutrients including Vitamin C, Zinc, Horsetail (stem) Extract, and Flax Seed Extract. Viviscal Man hair growth pills contain some ingredients of natural origins. Viviscal Man has been scientifically formulated to nourish hair from within and to promote existing hair growth.
Viviscal Man is part of the complete Viviscal Hair Growth and Hair Care Programs, which include products to nourish hair from within (Viviscal Man hair growth supplements) and prepare the scalp (Viviscal Hair and Scalp Serum, Gentle Shampoo and Moisturizing Conditioner).
For best results, take 1 tablet twice daily for 3-6 months. Best taken with water after a meal.
Viviscal tablets aren't easy to swallow.
Do not exceed the recommended daily intake.
Aminomar Marine Complex, Microcrystalline Cellulose, Vitamin C (From Acerola (Fruit) Powder And Ascorbic Acid), Flax Seed Extract, Horsetail (Stem) Extract, Zinc (From Zinc Oxide), Maltodextrin, Hydroxypropyl Cellulose, Magnesium Stearate, Silicone Dioxide, Methylcellulose, Natural Orange Flavor, Glycerin. Contains: Fish; Mollusks.