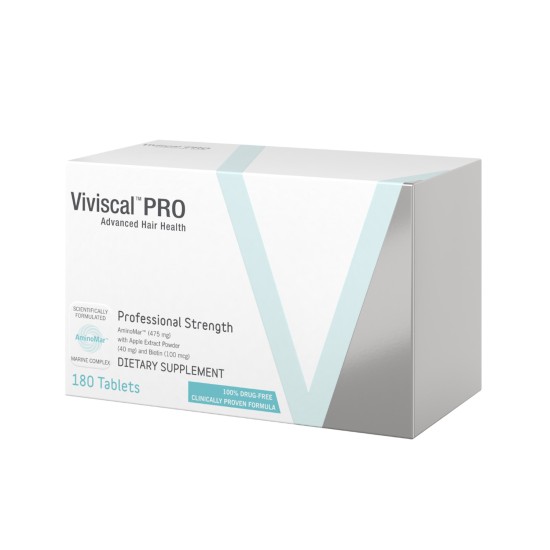 Viviscal Professional Strength Dietary Supplement 180 Tablets
Viviscal
Nourishes and repairs strands
Strengthens hair from root to tip
100% drug-free professional treatment
Everyday stress, hormonal fluctuations, medication, age, and heredity can all have an impact on hair health, leading to breakage, shedding, and premature loss. Viviscal Professional Supplements are scientifically formulated to nourish thinning hair and promote existing growth.
These twice-a-day tablets offer a 100% drug-free alternative to prescription treatments. AminoMar, an exclusive marine complex, helps encourage hair growth, while biotin, apple extract, and vitamin C help strengthen and protect weak locks. These vital nutrients provide a vital supply to follicles through the bloodstream, prolonging the growth cycle. Within three to six months, you can experience a noticeable difference in hair health.
Take two tablets daily for a minimum of 3-6 months (one tablet in the morning and one in the evening, with water after food). Viviscal Professional tablets are easy to swallow.
Vitamin C (from Acerola Powder and as Ascorbic Acid) Biotin AminoMar Marine Complex Apple Extract Powder (Procyanidin B-2)L-CystineL-Methionine Microcrystalline Cellulose Maltodextrin Hydroxypropyl Methyl Cellulose Magnesium Stearate Silicon Dioxide Artificial Orange Flavoring Modified Starch Glycerol