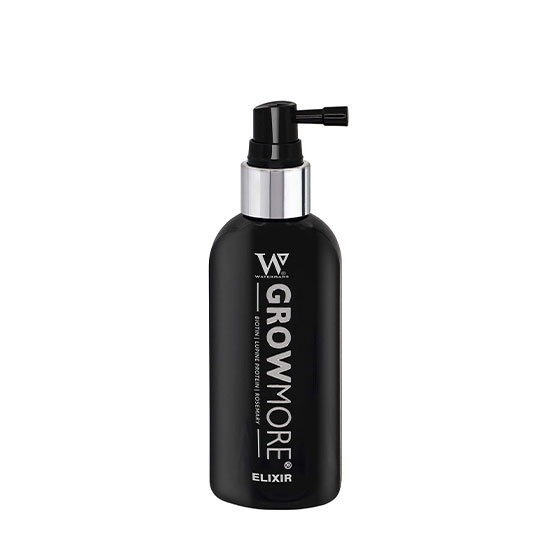 Watermans Grow More Elixir 100ml
Watermans
Nourishes and revitalizes the scalp
Thickens hair and fills in the blanks
Free of sulfates and therefore does not cause drying
Treats hair loss for both men and women
Grow More Elixir is one of the most efficient and effective serums that stimulate, strengthen, and nourish follicles to produce stronger hair and faster hair growth. Grow More Serum strengthens hair follicles and acts as a natural scalp treatment making it an ideal environment for hair growth. It is best to apply the serum directly to the scalp at night and every day. Grow More Elixir energizing formula consists of a blend of natural hair growth stimulating ingredients such as: Biotin, Lupine protein extract, allantoin, panthenol, cotton seed protein, calcium, rosemary, and silica. These ingredients all work in harmony to stimulate hair growth.
Tilt your head back slightly to avoid dripping on your clothes.
Using your hands, distribute the serum evenly in different places on a wet or dry scalp.
Gently massage the scalp for one minute to stimulate it.
Use once daily.
Water, Lupine Protein Extract, Hydroxyethyl Cellulose, Allantoin, Maltodextrin Yeast Extract, Panthenol, Sodium Benzoate, Diazolidinyl Urea, Polysorbate 20, Glycerin, Potassium Sorbate, Hydroxypropyl Guar HydroxypropylTrimonium Chloride, Tetrasodium EDTA, Niacinamide, Sodium Octenyl Starch Succinate, Citric Acid, Calcium Pantothenate, Rosemary Leaf Extract, Magnesium PCA, Sodium Ascorbyl Phosphate, Ethylhexylglycerin, Tocopheryl Acetate, Pyridoxine Hydrochloride, Zinc PCA, Limonene, Biotin, Manganese PCA, Silica.