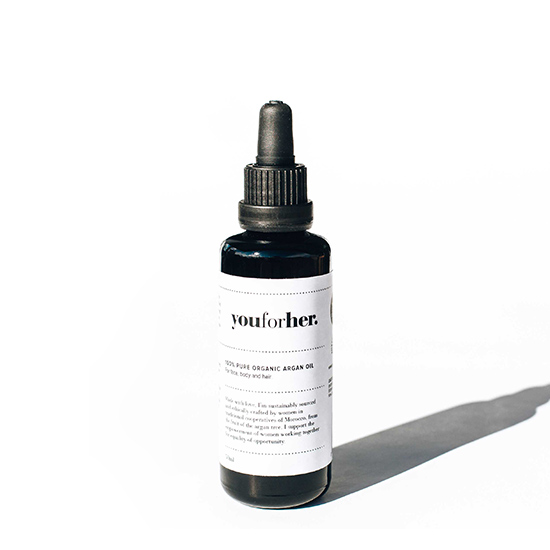 YouForHer Organic Moroccan Argan Oil
Youforher
Hydrates and softens both your hair and skin, locking in moisture
Provides excellent anti-aging properties
Makes your skin feel supple and free
Hydrates and softens both your hair and skin, locking in moisture
Provides excellent anti-aging properties
Makes your skin feel supple and free
Minimises lines, wrinkles, redness, stretch marks and scars
Heals and soothes, making it great to heal cradle cap, eczema and rashes
Conditions, strengthens and thickens all hair types, making it silky soft and shiny
Treats dry itchy scalps and beards
Is great for dry lips, feet and hands, strengthening brittle nails and repairs damaged cuticles
Is great to use on all skin and hair types, men and women of all ages
Is great (and safe!) to use on babies and pregnant women
It is a rich yet light oil, which absorbs quickly into the skin and hair.
This 100% pure, organic argan oil is carefully sourced for its high quality and made lovingly by women in local co-operatives of Morocco using traditional, hand-made methods. Not only do these co-operatives enable the local women to thrive and become income earners for their families, but they additionally provide literacy and other educational support to its members to improve the lives within the community.
At youforher we also commit to give over 50% of our profits to support women empowerment through education in rural Morocco.
Our oil is guaranteed natural and pure, with absolutely no additives or chemical treatments and no testing on animals.
Antioxidant, Fatty Acids, Vitamin E