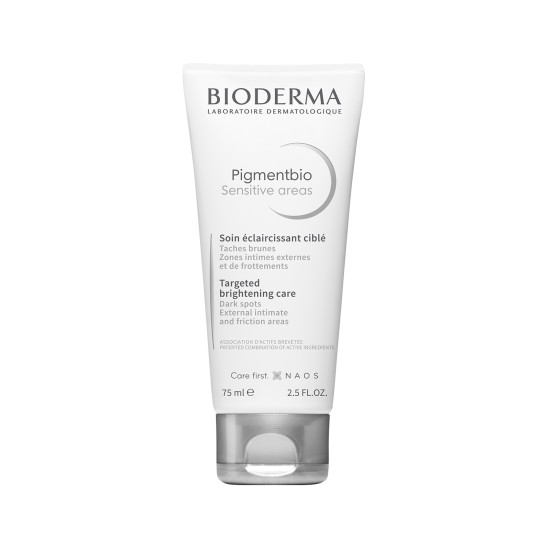 Bioderma Pigmentbio Sensitive Areas Targeted Brightening Care 75ml
Bioderma
Specifically designed to treat hyperpigmentation of sensitive and intimate areas
Helps reduce the appearance of dark spots
Soothes and reduces colour variations (redness) in sensitive and intimate areas
Brightens and evens out the skin with lasting results
Pigmentbio Sensitive Areas is specifically designed to treat hyperpigmentation of sensitive and external intimate areas. It helps brighten and even out the skin where friction, waxing, and clothing create discoloration and dark areas over time. Unfragranced.
Benefits:
The first skincare product was specifically designed to treat hyperpigmentation of sensitive and intimate areas.
Helps reduce the appearance of dark spots in areas of friction and prevents them from appearing
Soothes and reduces color variations (redness) insensitive and intimate areas brightens and evens out the skin with lasting results
Hydrates for 8 hours
Leaves the skin soft and comfortable thanks to its rich, smooth texture.
can be used directly after waxing or having very good tolerance - Non-sticky, non-greasy rich texture
Daily.
STEP 1: Soak a cotton pad.
STEP 2: Cleanse/ remove make-up from face and eyes.
STEP 3: Dry gently.
AQUA/WATER/EAUPROPANEDIOLGLYCOLIC ACIDGLYCERINDIPROPYLENE GLYCOLPROPYLHEPTYL CAPRYLATESODIUM HYDROXIDEASCORBYL GLUCOSIDENIACINAMIDESALICYLIC ACIDAMMONIUM ACRYLOYLDIMETHYLTAURATE/VP COPOLYMERSORBITAN SESQUIOLEATEPENTYLENE GLYCOLTOCOPHERYL ACETATEXANTHAN GUMSODIUM CITRATELYSINEAZELAIC ACIDMANNITOLXYLITOLSODIUM METABISULFITEANDROGRAPHIS PANICULATA LEAF EXTRACTRHAMNOSESACCHARIDE ISOMERATEGLYCYRRHIZA GLABRA (LICORICE) ROOT EXTRACTTOCOPHEROLFRUCTOOLIGOSACCHARIDESCAPRYLIC/CAPRIC TRIGLYCERIDELAMINARIA OCHROLEUCA EXTRACTFRAGRANCE (PARFUM). [BI 758]The ingredients listed here are those contained in the most recent formulation of this product. As there may be a delay between its production and its distribution on the market, please refer to the ingredient list on the packaging.