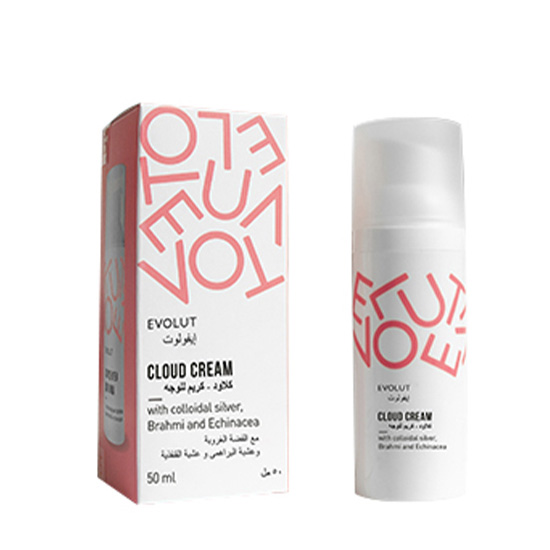 Evolut Cloud Face Moisturizing Cream 50ml
Evolut
Soothing Moisturizing Face cream
With Anti-inflammatory, Anti-irritation effect
For All Skin types
Moisturizing cloud cream with a light, nourishing texture soothes and intensely softens, restores protective properties, and increases the skin's resistance to aggressive factors. The combination of silver, echinacea, and Brahmi relieves irritation, eliminates signs of inflammation, and relieves dryness and tightness. The skin becomes soft and even.
Apply onto the face and gently massage the cream into wet clean skin.
The product is the final step of skincare and can be applied after serum or toner.
Use it as a day or night cream.
Aqua (Water), Prunus Amygdalus Dulcis (Sweet Almond) Oil, Colloidal Silver, Glycerin (Vegetable), Cetearyl Alcohol, Polysorbate 60, Tocopherol, Dimethicone, Centella Asiatica Extract, Echinacea Purpurea Extract, Squalane, Isoamyl Laurate, Isoamyl Cocoate, Carbomer, Xanthan Gum, Dehydroacetic Acid, Benzyl Alcohol, Parfum, Sodium Hydroxide