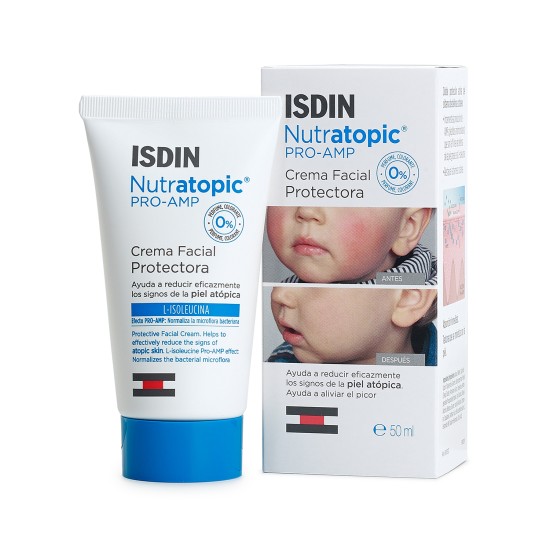 Isdin Nutratopic Pro-Amp Atopic Skin Facial Cream 50 ml
Isdin
Limited Stock!
Anti-Redness, Anti-itching Skin Cream
For Atopic Dry Skin
Enriched with Glycerin & Shea Butter
Prevents/Reduces itching, redness, peeling
Isdin nutratopic pro-amp facial cream is face care that strengthens the skin barrier of atopic skin. Prevents, cares for, and reduces major visible symptoms of childhood facial atopic dermatitis Namely, itching, redness, peeling, and reactivity. Helps fight the signs of Atopic Dermatitis. The only care with the active double protection of the skin defense system: Increases the production of antimicrobial peptides (AMPs), which are the first line of skin defense, thanks to the action of L-isoleucine. Restores the skin barrier. Fast absorption. Its lamellar structure mimics the skin.
Apply twice a day to the face as an adjuvant for symptom control and as maintenance in remission periods.
L-Isoleucine, Rhamnosoft, Glycine, Ceramide, Shea Butter, Squalane, Glycerin, Trimethylglycine, Hydrogenated Lecithin
Frequently Bought Together
Choose items to buy together