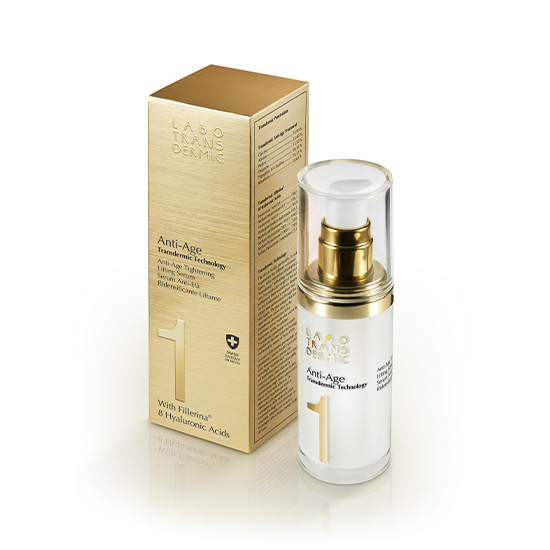 Labo Transdermic Anti-Age Tightening Lifting Serum 30ml
Labo Transdermic
Tightens and lifts the skin
For mature, sagging, loose skin
Intensive Anti-Age Transdermic Care for mature, sagging, loose skin. Glycine, Alanine and Proline molecules are supplied to the skin since these amino acids are contained in greater percentage in collagen, the main protein composing the dermis, responsible for skin density and compactness with subsequent tightening effect; Thiamine is a vitamin that, when lacking, can stop fibroblasts' role in collagen metabolism; Tripeptide-10 Citrulline increases skin density by regulating collagen fibers organization; Riboflavin intervenes in the metabolic processes and in cell energy production. This cosmetic preparation has an immediate lifting effect.
Use morning and/or evening after cleansing. Smooth onto face and neck with upward movements and follow with the Anti-Age Tightening Lifting Cream.
Glycine, Alanine And Proline Molecules Are Supplied To The Skin Since These Amino Acids Are Contained In Greater Percentage In Collagen, The Main Protein Composing The Dermis, Responsible For Skin Density And Compactness With Subsequent Tightening Effect; Thiamine Is A Vitamin That, When Lacking, Can Stop Fibroblasts' Role In Collagen Metabolism; Tripeptide-10 Citrulline Increases Skin Density By Regulating Collagen Fibres Organization; Riboflavinintervenes In The Metabolic Processes And In Cell Energy Production. The 8 Hyaluronicacids With Different Molecular Weights Of Fillerina Patent Differently Penetrate The Cutaneous Layers Of Both Epidermis And Dermis, Thus Providing An Essentialadvantage To The Skin.