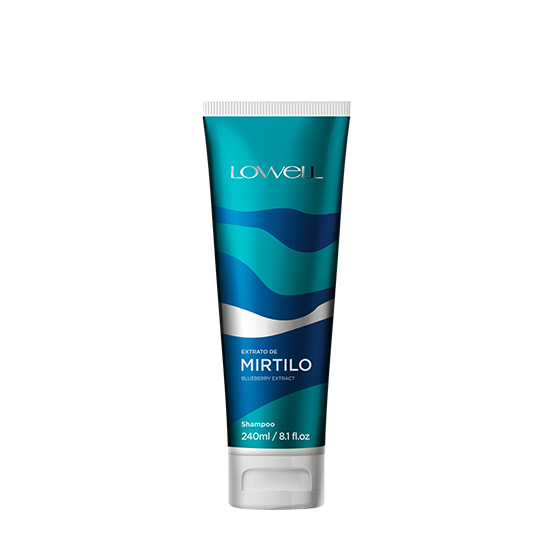 Lowell Mirtilo Shampoo 240ml
Lowell
Provides an easier combing process, reducing flyaways and frizz
Leaves hair loose and gently perfumed
Provides effective cleansing without drying out
Provides sealing of cuticles returning the natural moisture and elasticity of dry hair
Lowell Complex Care Mirtilo with Blueberry Extract line was developed for daily use, bringing more shine and vitality to the hair. It has exclusive and involving fragrance, which guarantees a perfume explosion at each hair movement. Besides, the line is compounded by specific products of anti hair loss treatment (Shampoo and Hair Tonic).Indicated for daily use, the shampoo has a balanced formula that provides effective washing without drying out. Ideal line for opaque hair, because it revitalizes and returns the natural shine of the hair strands.Formulation rich in cationic actives that provides the sealing of the cuticles returning the natural humidity and elasticity of dry hair; Provides easier combing process, reducing flyaways and frizz; Leaves hair loose and gently perfumed.ContainsLowell Complex Care Blueberry Extract Shampoo 1Litre: provides effective cleansing without drying out.Lowell Complex Care Blueberry Extract Conditioner 1Litre: provides sealing of cuticles returning the natural moisture and elasticity of dry hair.
Apply the shampoo to damp hair and massage until you get plenty of foam. Rinse until complete removal of the product. Repeat the operation. Curiosity: Blueberry is one of the fruits of greater antioxidant power, which results in the protection of hair against free radicals. It is considered the fruit of the Gods, as it is related to rejuvenation.Result: Clean, strong and shiny hair.
The Complex Care Blueberry Lowell Line Has Been Developed For Daily Use, Bringing More Shine And Vitality To The Hair. It Has An Exclusive And Enveloping Fragrance, Which Guarantees An Explosion Of Perfume With Every Movement Of The Hair. In Addition, The Line Is Made Up Of Specific Products Of Anti-Curing Treatment (Shampoo And Tonic Antiqueda). Energizes And Protects The Skin And Hair From Environmental Stress (Uv Radiation); Strengthens Maintenance And Repair Of Hair Fiber; It Has Anti-Inflammatory Action And Stimulates The Synthesis Of Proteins; Stimulates Hair Growth And Has Regulatory Sebum Action; Inhibits 5α Reductase Ii; It Has Toning, Invigorating, Healing And Normalizing Action; Provides Protection Against The Formation Of Free Radicals; Helps In Cell Renewal Stimulating Hair Growth.Action Sodium Laureth Sulfate, Cocamide Dea, Parfum, Hydrolyzed Lupine Protein, Methylchloroisothiazolinone, Methylisothiazolinone, Sodium Chloride, Aqua, Citric Acid, Cocamidopropyl Betaine, Propylene Glycol / Diazolidinyl Urea, Iodopropynyl Butylcarbamate, Keratin Amino Acids, Vaccinium Myrtillus Fruit Extract, Limonene, Linalool.