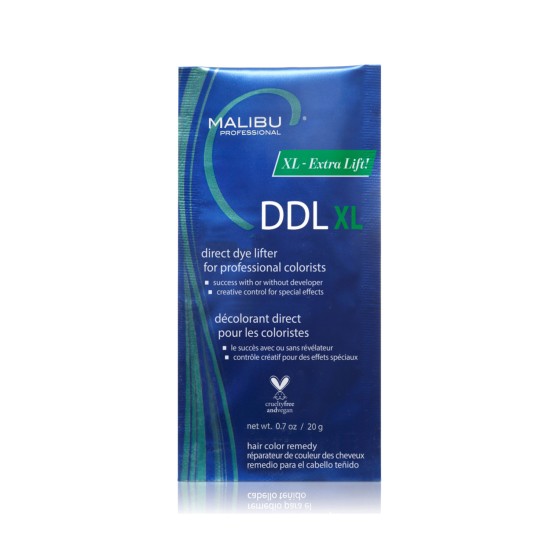 Malibu C Direct Dye Lifter DDL 20gms
Malibu C
Removes unwanted direct dyes and stains
Activated with water or developer
Non-drip formula for ease of application
This innovative new product removes unwanted direct dyes and is ideal for special effects, giving you the ability to easily take off color without the unexpected. Perfect for the client who likes to change their color often.
For best results prep the hair with Malibu C CPR prior to application of DDL XL. Activation: Open and pour DDL XL crystals into a non-metallic mixing bowl. Add 1.5 ounces of 10-20 volume developer. Mix thoroughly and use immediately. For gentler lifting and to remove blue/green hues, mix DDL XL with water instead of developer. Additives are not recommended. Application: Section hair and apply freshly mixed DDL XL with a brush to each section. Allow to remain on hair for a maximum of 45 minutes. The longer the processing time, the greater the lift. Check hair every 5 minutes until desired results are achieved. Shampoo thoroughly and rinse (Malibu C Un-Do-Goo Shampoo is recommended). Heat is not recommended. Use Malibu C De-OX to stop oxidation after processing. CAUTIONS: Do a strand test prior to application. Do not apply if test shows splitting. Avoid contact with eyes. If any mixture gets into eyes rinse immediately with water and call a physician immediately. Do not apply or use on: (1) Eyelashes or eyebrows. (2) Children. (3) Scalp or skin. (4) Hair coated with metallic dyes. Rinse immediately if itching or burning occurs. Use suitable gloves when applying, working and rinsing.
Ammonium Persulfate, Bentonite, Sodium Metasilicate, Xanthan Gum, Disodium Edta, Sodium Cocoyl Isethionate, Sodium Carbonate, Potassium Persulfate, Polyquaternium-10.