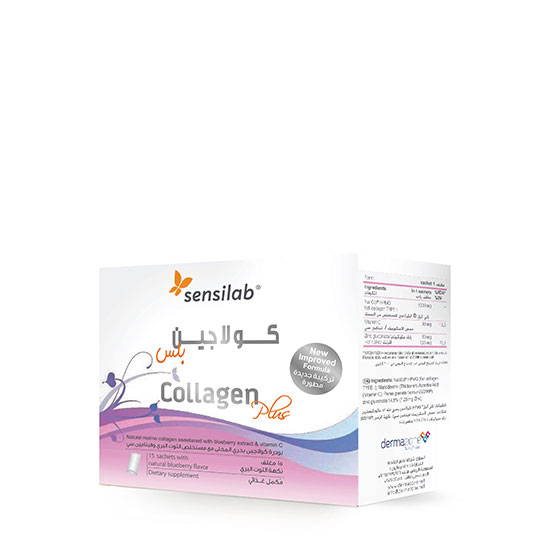 Sensilab Collagen Plus 15 Sachets
Sensilab
Gives firmer, younger, and more radiant skin
Reduces the appearance of wrinkles and fine lines
Makes nails and hair stronger and shinier
Suitable for vegetarian
Marine collagen for the skin with blueberry extract and vitamin C, has a high absorption capacity, as results usually appear within 14 days! It reduces wrinkles and fine lines, moisturizes the skin, and protects it from drying out. Regular use of Marine Collagen Plus helps in improving collagen fibers and helps the skin to provide an alternative source of Type 1 Collagen, while at the same time stimulating its natural production. This makes the skin more elastic and supple, retains moisture, and reduces the appearance of wrinkles and facial lines, and therefore consuming a 100% natural source of collagen is enough to give the skin a lively and youthful appearance.
Empty the contents of one sachet into 200 ml of water, and drink it once daily (cold water can be used as it has solubility), with the need to maintain a balanced diet. Collagen Plus is a nutritional supplement and is not a substitute for food.
It is recommended to take one sachet daily, for a period of 2 to 3 months, knowing that the initial effects usually appear after two weeks of use.
Do not exceed the recommended dose.
Do not store the product in a humid place, keep it at room temperature away from light.
Do not leave the product within the reach of children.
5000 mg Marine Sourced Collagen Peptides (Natural Fish Collagen Type 1), 1000 mg Bilberry Extract, 90 mg Vitamin C (Ascorbic Acid), 50 mg Zinc Gluconate, 7.25 mg Zinc.