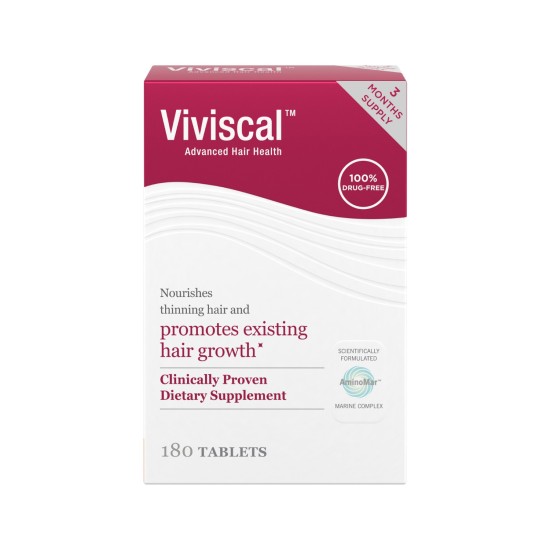 Viviscal Women's Max Strength Supplements 180 tablets (3 month supply)
Viviscal
AED 485.1
AED 693
(VAT inc.)
100% drug-free
Contain natural ingredients
Enriched with Zinc & Iron & Biotin
Viviscal Hair Growth Supplements for women nourish thinning hair and promote existing hair growth from within. Viviscal Hair Growth Supplements supply vital nutrients to the hair follicle to prolong the anagen (growing) phase of the hair growth cycle, nourishing thinning hair and promoting hair growth. Viviscal Hair Growth Supplements contain the exclusive marine complex AminoMar, as well as Biotin, Zinc, Vitamin C, Horsetail Extract, and Iron, to nourish hair from within.
For best results, take 1 tablet twice daily for 3-6 months.
Best taken with water after a meal.
Viviscal tablets are easy to swallow.
Do not exceed the recommended daily intake.
Aminomar Marine Complex, Vitamin C (From Acerola (Fruit) Powder And Ascorbic Acid), Microcrystalline Cellulose, Maltodextrin, Horsetail (Stem) Extract, Iron (From Ferrous Fumarate), Hydroxypropyl Cellulose, Zinc (From Zinc Oxide), Biotin, Niacin (As Niacinamide), Croscarmellose Sodium, Magnesium Stearate, Millet Seed Extract, Natural Orange Flavor, Methyl Cellulose, Silicon Dioxide, Glycerin. Contains: Fish (Shark), Mollusks. Iron: An Essential Mineral That Has Several Important Roles In The Body, Iron Helps To Make Red Blood Cells, Which Carry Oxygen Around To Cells In The Body, Including Hair Follicles. Thinning Hair Can Be One Of The Visible Symptoms Of Anemia (Iron Deficiency).