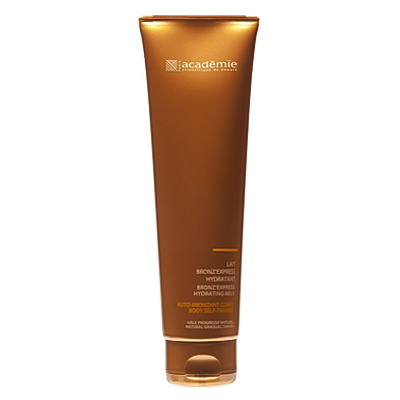 Academie Body Moisturizing Lotion Natural Gradual Tanner 150ml
Academie
AED 150.68
AED 215.25
(VAT inc.)
Limited Stock!
Skin is radiant
Produces a natural tan in a few hours just like a real suntan
The first self-tanning lotion on the market which produces a natural tan in a few hours just like a "real" suntan. Thanks to its tinted colour it helps you get a streak-free instant tan wherever and whenever you want it. This lotion is suited to all skin types, even for those who cannot get a suntan naturally with sun exposure. The tan fades away on its own gradually just like the tan obtained by sun exposure.
This product does not contain sunscreen and does not protect against sunburn. Repeated exposure of unprotected skin while tanning may increase the risk of skin ageing, skin cancer and other harmful effects to the skin even if you do not burn.
Avoid eye contact.
If eye contact occurs, rinse thoroughly with water.
Apply evenly to the whole body or those areas that need tanning. After applying, be sure to wash your hands with cold water. It is recommended to repeat the application 2-3 times a week to maintain the tanning intensity.
A combination of active ingredients, including DHA, which interact with amino acids