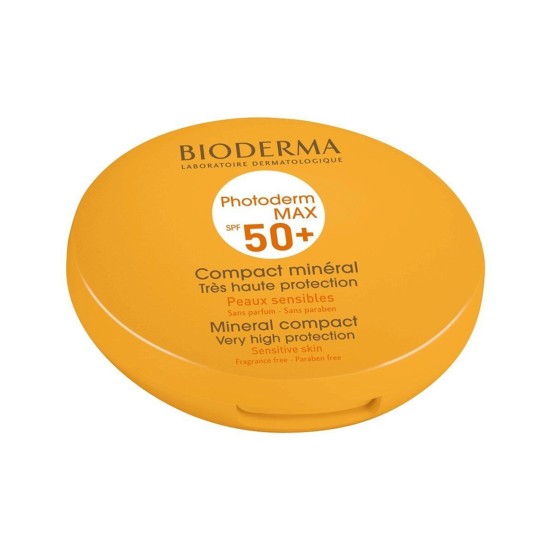 Bioderma Sunscreen Photoderm Spf50 Mineral Compact Light Shade 10g
Bioderma
AED 99.23
AED 141.75
(VAT inc.)
Offers a very high UVA/UVB protection
Soft, non-greasy, non-sticky texture, easy to apply, powdery finish
Very good tolerance
Non-comedogenic
Unfragranced
Photoderm Max Compact Light tint SPF50+ is a face sunscreen that offers UVA/UVB protection, combats premature skin ageing and evens out the complexion for a healthy glow effect. Non-greasy, non-sticky texture, powdery finish. Non-comedogenic, unfragranced.Benefits:Offers a very high UVA/UVB protectionEvens out the complexion and leaves a pleasant powdery finish for immediate healthy glow effectSoft, non-greasy, non-sticky texture, easy to apply, powdery finishVery good tolerance - Non-comedogenic - Unfragranced.
Several times a day - When exposed to the sun.
STEP 1: Apply evenly and liberally before exposure (a smaller amount of product reduces the level of photoprotection).
STEP 2: Re-apply frequently, before and after swimming, rubbing, and playing sports. Do not expose babies or young children to the sun. Excessive sun exposure is harmful to your health.
AQUA/WATER/EAUDIETHYLAMINO HYDROXYBENZOYL HEXYL BENZOATEHOMOSALATEDIISOPROPYL SEBACATEBIS-ETHYLHEXYLOXYPHENOL METHOXYPHENYL TRIAZINEDIBUTYL ADIPATEPROPANEDIOLETHYLHEXYL SALICYLATEETHYLHEXYL TRIAZONEGLYCERYL OLEATE CITRATEGLYCERINSUCROSE LAURATEHELIANTHUS ANNUUS (SUNFLOWER) SEED OILCAPRYLIC/CAPRIC TRIGLYCERIDETYROSINEMICROCRYSTALLINE CELLULOSECAPRYLOYL GLYCINESODIUM CITRATEACRYLATES/C10-30 ALKYL ACRYLATE CROSSPOLYMERECTOINMANNITOLXYLITOLGLYCERYL STEARATECELLULOSE GUMRHAMNOSESODIUM HYDROXIDECOPPER GLUCONATEFRUCTOOLIGOSACCHARIDESLAMINARIA OCHROLEUCA EXTRACTACETYL HEXAPEPTIDE-1DEXTRANFRAGRANCE (PARFUM). [BI 611]The ingredients listed here are those contained in the most recent formulation of this product. As there may be a delay between its production and its distribution on the market, please refer to the ingredient list on the packaging.
Frequently Bought Together
Choose items to buy together