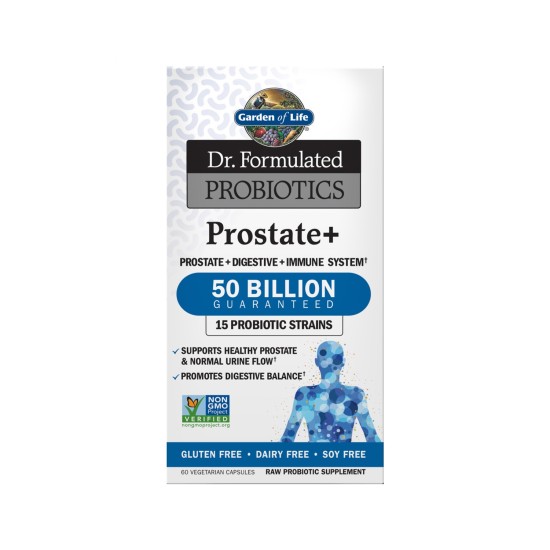 Garden Of Life Dr Formulated Probiotics Men Prostate 60 Caps
Garden Of Life
AED 202.13
AED 288.75
(VAT inc.)
Limited Stock!
Supports Men's healthy prostate & normal urine flow
Promotes digestive balance
Boosts immune system
15 Raw probiotic strains; 50 billion CFU
PROBIOTIC WITH CRANBERRY: This prostate supplement for men contains organic cranberry powder and whole food vitamin D3 for prostate support and urinary tract support. Just 2 capsules a day support men s lower urinary tract and prostate health DIGESTION SUPPORT: This 50 billion CFU probiotic supplement contains Lactobacillus acidophilus and Bifidobacteria for digestive health and constipation relief
2 capsules a day after meals morning/evening
Lactobacillus Plantarum, Lactobacillus Acidophilus, Lactobacillus Rhamnosus, Lactobacillus, Casei, Lactobacillus Gasseri, Lactobacillus Brevis, Lactobacillus Bulgaricus, Lactobacillus Paracasei, Lactobacillus Salivarius, Bifidobacterium Lactis, Bifidobacterium Animalis Subsp. Lactis, Bifidobacterium Bifidum, Bifidobacterium Breve, Bifidobacterium Infantis, Bifidobacterium Longum; Organic Flowens Whole Cranberry (Fruit); Organic Prebiotic Fiber Blend: Organic Potato [Resistant Starch] (Tuber), Organic Acacia Fiber (A. Senegal). Other Ingredients: Non-Gmo Vegetable Cellulose (Capsule). Made Without Dairy Or Soy Ingredients, Peanut, Tree Nuts Or Shellfish. Manufactured In A Facility That Also Processes Soy, Dairy, Peanut, Tree Nuts And Shellfish. No Artificial Colors Or Preservatives.