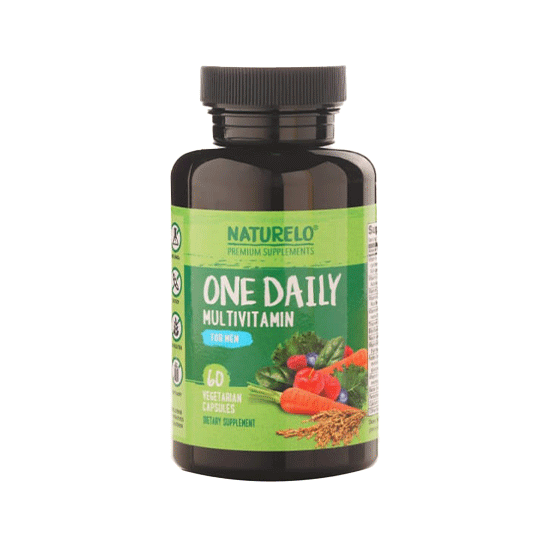 Naturelo One Daily Multivitamin For Men 60 Ct
Naturelo
AED 91.7
AED 131
(VAT inc.)
Limited Stock!
Natural vitamins
Dissolves faster
Helps your digestive health
All-in-one: Packed with 23 essential vitamins and minerals to support men's health, plus organic fruits and vegetables for whole food nutrition and antioxidant support, all in just one daily multivitamin for men.
Plant-based: Featuring premium plant-based vitamins and minerals such as Vitamin D3 from wild-harvested lichen, Vitamin E from sunflower, Calcium, and Magnesium from marine algae, and Iodine from kelp.
Bioactive: Includes activated B vitamins like B12 from methylcobalamin, B6 from P-5-P, and MTHFR-friendly Methyl Folate (not folic acid), plus chelated minerals like Zinc and Selenium, for better absorption and bioavailability.
Healthy Benefits: Boost your natural energy and vitality and support your heart, brain, eye, and immune health with vitamins, minerals, and organic whole foods to round out your diet and help keep your body functioning at its best.
Clean Label: No preservatives, gelatin, coloring or flavoring. Proudly made to GMP standards in the U.S. Vegan, Non-GMO, and Soy and Gluten-Free. Third-party tested for purity and potency.
Take one (1) capsule daily with a full glass of water. Capsules may be opened and powder added to your food or drink.
Keep out of reach of children. As with any dietary supplement, consult your healthcare practitioner before using this product. Store in a cool, dry place. Do not use if seal is missing.
Amount Per 1 Capsule Vitamin A (As Natural Beta Carotene From Blakeslea Trispora) 1000Mcg Vitamin C (From L-Ascorbate & Acerola Cherry Extract) 100Mg Vitamin D3 (As Plant-Based Cholecalciferol From Wild-Harvested Lichen) 22Mcg Vitamin E (From D-Alpha Tocopheryl From Sunflower) 16.5Mg Vitamin K2 (As Menaquinone Mk-7) 120Mcg Thiamine (From Thiamine Hcl) 1.3Mg Vitamin B2 (Riboflavin) 1.4Mg Vitamin B3 (As Niacinamide) 17.6Mg Vitamin B6 [(From Pyridoxal 5 -Phosphate (P-5-P)] 1.9Mg Folate (As Active L-5-Methylfolate) 400Mcg Vitamin B12 (As Methylcobalamin) 2.6Mcg Biotin (As D-Biotin) 33Mcg Vitamin B5 (From Di-Calcium Pantothenate) 5.5Mg Calcium (As Aquamin From Marine Algae & Dicalcium Phosphate) 50Mg Phosphorus (From Dicalcium Phosphate) 13.2Mg Iodine (From Wild, Hand-Harvested Kelp) 100Mcg Magnesium (As Aquamin Magnesium From Marine Algae) 50Mg Zinc (From Zinc Amino Acid Chelate) 10Mg Selenium (From Selenium Glycinate Complex)(Traacs) 50Mcg Copper (As Copper Aminomin) 0.5Mg Manganese (As Manganese Sulfate) 1.5Mg Chromium (From Chromium Polynicotinate) 30Mcg Molybdenum (As Molybdenum Krebs Complex) 40Mcg Organic Fruit And Vegetable Blend Organic Carrot (Root) 10 Mg, Organic Blueberry (Berry) 10 Mg, Organic Kale (Whole Plant) 10 Mg, Organic Pomegranate (Whole Fruit Juice) 10 Mg, Organic Raspberry (Berry) 10 Mg, Organic Spinich (Leaf/Stalk) 10 Mg 60 Mg • • Daily Value Not Established Vegetable Cellulose Capsule