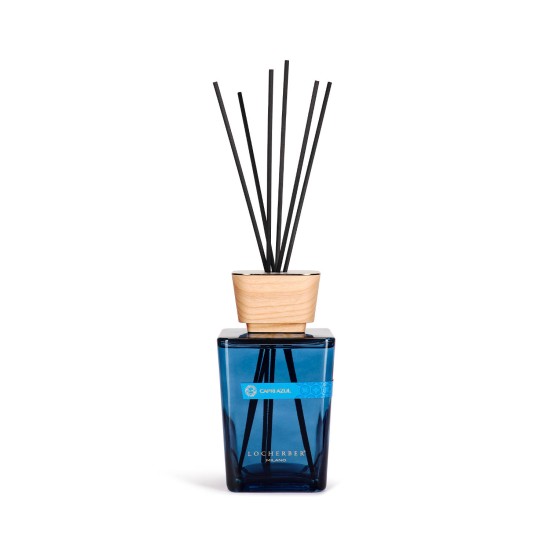 Locherber Capri Blue Diffuser 1000ml
Locherber
The enchantment of luxuriant and unspoiled nature, surrounded by the deep blue sea: CAPRI AZUL by Locherber Milano is a tribute to the "pearl of the Mediterranean", to the charm and allure that have always set it apart and made it a timeless icon.
The intense and embracing fragrances of the Mediterranean scrubland can be found in its aromatic structure: fresh citrus notes of lemon, orange, and mandarin are followed by the floral sensations of Zagara (characteristic orange blossom) and spicy notes of cardamom and tea leaves. Its finish is sweet and sensual with aromas of caramelized vanilla and white musk.
The elegant blue hand-painted glass bottle is embellished with a new label made of fabric, with a geometric pattern that resembles the famous majolica ceramics of Capri.
The T2 cap is created by hand according to techniques patented by Locherber that recall a capital of a Roman temple in order to emphasize the influence of the culture of ancient Rome and create a piece of Made in Italy design to enhance even more the space that surrounds us.
This island, where the sky and the sea meet, has inspired CAPRI AZUL by Locherber Milano: as fresh and impalpable as a sea breeze, and as exhilarating as a Mediterranean garden.
Store only in the original container. Store the containers in a well-ventilated place away from direct sunlight. Keep away from heat sources, naked flame, sparks, or other ignition sources.
Head Notes: Orange, Lemon, Sicilian mandarin
Heart Notes: Cardamom, Orange blossom, Tea leaves
Base Notes: Caramelized vanilla, White musk