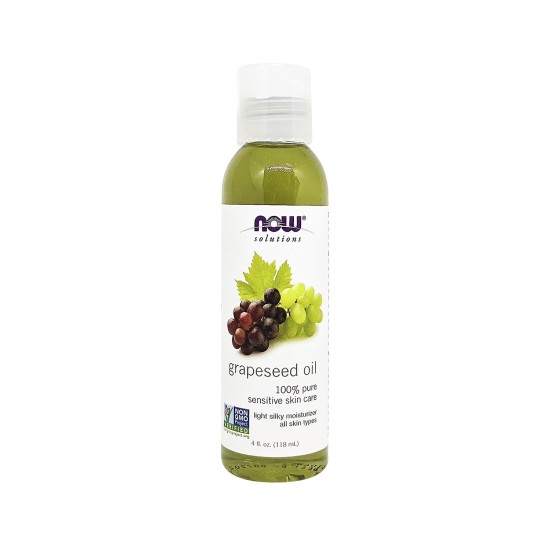 Now Solutions, Grapeseed Oil, 100% Pure 4 Fl. Oz.
Now Foods
Sensitive skincare
Light silky moisturizer
All skin types
Made without gluten
Non-GMO
Paraben-free
Vegan/Vegetarian
Condition: Sensitive skin in need of a natural moisturizer and protection from free radical damage, without clogging pores and causing breakouts.100% Pure Grapeseed Oil is a light, odorless oil with mild emollient properties. This versatile oil has numerous essential fatty acids including Linoleic, Oleic, Stearic, Palmitic, Myristic and Lauric. Its rich, silky texture is perfect for soothing away dryness and is suitable for all skin types since it won't clog pores or cause break-outs. Grapeseed Oil is perfect as a base for lotions, and it's mild enough to use as a conditioner for all hair types.• Sensitive Skin Care• Light Silky Moisturizer• All Skin Types• MADE W/O GLUTEN• NON-GMO• PARABEN FREE• VEGAN / VEGETARIAN
As a natural moisturizer, apply oil directly to skin or use as a base for lotions.
Vitis Vinifera (Grape) Seed Oil., .