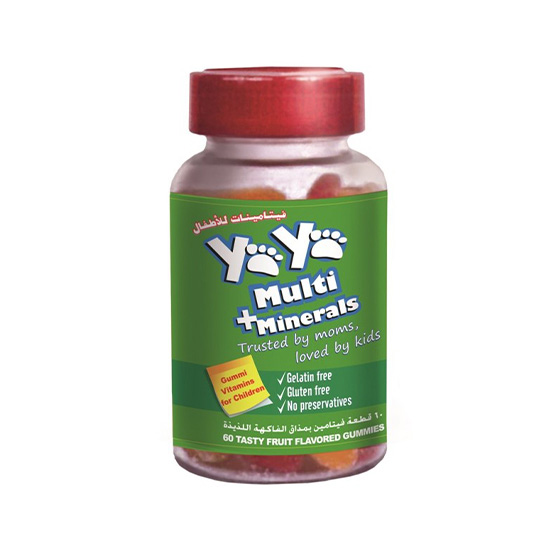 Yaya Multi Minerals 60 Gummies
Yaya
9 vitamins and 7 minerals
Provides your child additional supply of Vitamins and minerals for a healthy well-being
Yaya Multi +Minerals with 9 vitamins and 7 minerals provides your child additional supply of Vitamins and minerals for a healthy well- being.
For adults and children over 2-4 Years: Chew two fruit gums daily.
For children 2-4 Years: Chew one fruit gum daily
Lycopene, Vitamin C (Ascorbic Acid), Vitamin D (As Cholecalciferol), Vitamin B3 (As Niacinamide), Vitamin B6 (As Pyridoxine Hydrochloride), Pantothenic Acid (As Cacium Pantothenate), Magnesium (As Magnesium Citrate), Selenium (As Sodium Selenite), Zinc (As Zinc Citrate), Vitamin A (As Retinyl Palmitate), Chromium (As Chromium Picolinate), Vitamin B12 (As Cyanocobalamin), Biotin, Folic Acid, Vitamin E (As Alpha Tocopheryl Acetate), Iodine (As Potassium Iodide).