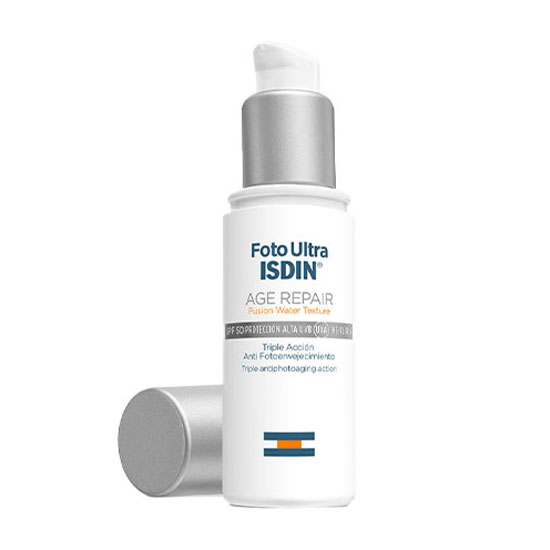 Isdin Sunscreen Foto Ultra UV Care Spf50+ Age Repair Fluid 50ml
Isdin
AED 144.9
AED 241.5
(VAT inc.)
Anti-aging sunscreen
Suitable for the eye contour
Oil-free texture leaves no trace behind
Protects against the full spectrum of radiation
Isdin FotoUltra Age Repair Fusion Water Texture is an anti-aging sunscreen that protects against the full spectrum of radiation with the Fusion Water texture. The oil-free texture leaves no trace behind and is suitable for the eye contour, as it doesn't sting the eyes. With a combination of anti-aging ingredients, this sunscreen is perfect for you if you want to fight signs of aging besides fully protecting the skin against radiation.
Apply Isdin FotoUltra Age Repair Fusion Water Texture in the morning as the last step of the skincare routine. Reapply after 2h exposure, bathing or towell-drying.
Full Spectrum Technology Is A Combination Of Sunscreen Ingredients Which Provides A Uvb Protection Of 50, Uva Protection Of 32 And Protection Against He-Vl And Ir-A; Hyaluronic Acid Helps To Hydrate The Skin And Have A Filling Effect On Wrinkles And Fine Lines; Adn Repairsomes Help To Repair The Sun Damages At A Cellular Level; Lipopeptide Q10 And Collagen Booster Peptide Improve The Skin Surface And Boost Radiance, Stimulating The Collagen Synthesis; Safe-Eye Tech Makes The Formula Suitable For The Eye Contour.