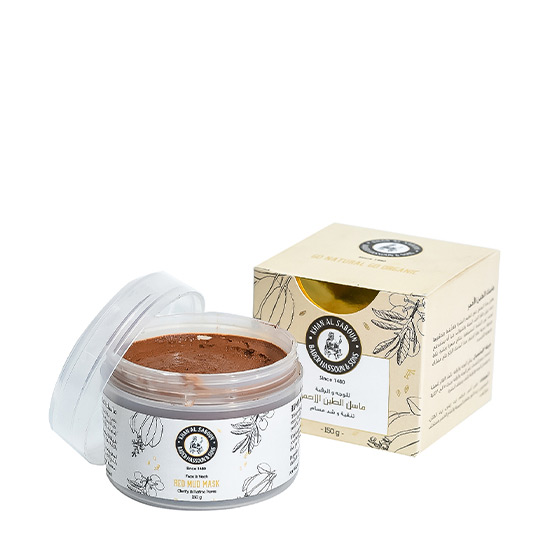 Khan Al Saboun Red Mud Mask 150g
Khan Al Saboun
This product removes pigmentation, dead skin cells and impurities
Enters the pores and deeply cleans the skin to unify the skin stone and gain its luster
This product removes pigmentation, dead skin cells and impurities. Enjoy the dazzling results of a youthful-looking glowing complexion with antioxidant properties in the red mud mask. When using this product, the red clay enter the pores and deeply cleans the skin to unify the skin stone and gain its luster.
Usage: wash the face with warm water then apply a small quantity on the face. Gently massage the face with circular motion for one minute then wash it again. Use it 1-2 times a week for best result. It is best used with wheat bran liquid soap. Warning: If redness or itchiness appear then it's best not to use it. This product is only suitable for oily and mixed skin types. Keep away from heat.
Ingredients: Distilled Herbal Water, Red Mud, Turmeric Powder, Olive Oil, Vegetarian Glycerin, Sweet Almond Oil, Flax Oil, Sage Extract, Honey, Vegetable Wax.
Frequently Bought Together
Choose items to buy together