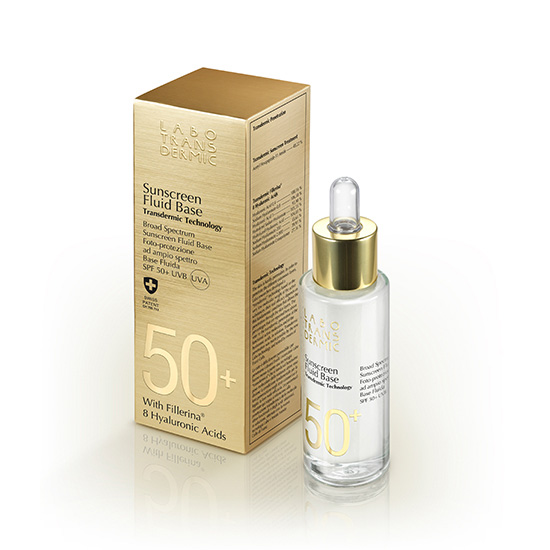 Labo Transdermic Fluid Base Spf 50+ Uva Uvb 30ml
Labo Transdermic
Light but rich emulsion
Offers very high protection
This light but rich emulsion contains broad-spectrum UVA and UVB sunscreens and offers very high protection (50+). The Sunscreen Fluid Base is specifically formulated in order to be used in several ways: three drops of it can be blended into the usual Labo Transdermic cream to make it a perfect highly protective day cream. When used alone, it is a complete sunscreen that can be, possibly, followed by the usual Labo Transdermic cream. Finally, it can be matched with any other cream that does not contain sun-filters. To be used alone or with the daily morning treatment. Shake before use. 30 ml bottle with dropper.
Only three drops are required to give the face very high protection. It can be mixed with the daily cream directly on the palm of the hand before application. Keep away from light and heat.
The Specific Active Ingredients Contained In The Fluid Basespf 50 Uva Uvb Were Tested To Verify Their Capability In Penetrating The Different Cutaneous Layers, Where They Efficaciously Play Their Cosmetic Function. Acetyl Hexapeptide-51 Amide Helps Protect Skin Cells Nuclear Dna From Uvb And Uva Radiation Damages. The 8Hyaluronic Acids With Different Molecular Weights Of Fillerinapatent Differently Penetrate The Cutaneous Layers Of Both Epidermis And Dermis, Thus Providing An Essential Advantage To The Skin. The Formulation Contains A Broad-Spectrum Sunscreen And Offers Very High Protection With Spf 50 . To Be Used Alone Or With The Daily Face Cream.