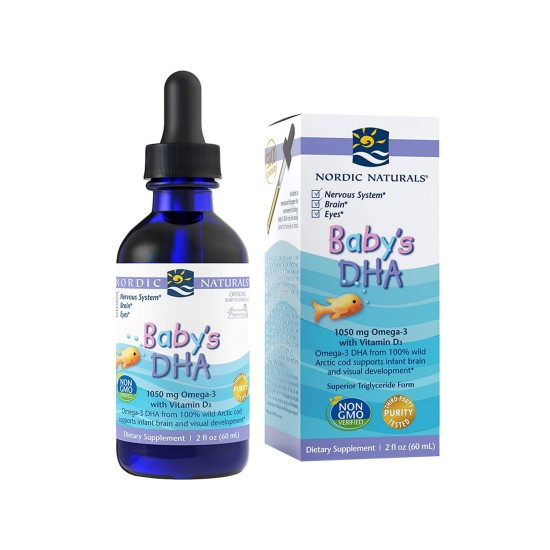 Nordic Naturals, Baby's DHA with Vitamin D3, 2Oz
Nordic Naturals
AED 90.3
AED 129
(VAT inc.)
Surpasses the strictest international standards for purity and freshness
1050mg omega-3s made from 100% wild Arctic cod, with 300 IU added vitamin D3, which many pediatricians recommend
Clearly marked dropper for easy measuring
The Official Baby's Omega-3 of the American Pregnancy Association
Nordic Naturals Baby's DHA with vitamin D3 is the official baby's omega-3 of the American pregnancy Association and is the #1 selling Baby's Omega-3 in the U.S. We have always used 100% wild Arctic cod in our cod liver oil prodcuts, including Baby's DHA - no fish body oils or synthetic additives are ever used.• Surpasses the strictest international standards for purity and freshness• 1050mg omage-3s made from 100% wild Arctic cod, with 300 IU added vitamin D3, which many pediatricians recommend.• Clearly marked dropper for easy measuring• The Official Baby's Omega-3 of the American Pregnancy Association.
Serve with food, or as directed by your pediatrician. Clean dropper thoroughly between each use, especially if the dropper contacts baby's mouth. Store bottle with original cap in the refrigerator.Body WeightDose5-10 lb 1.0 ml11-20 lb2.0 ml21-25 lb3.0 ml26-30 lb4.0 ml31-35 lb5.0 ml
Vitamin A, Vitamin D3, Total Omaga-3S, Epa(Eicosapentaenoic Acid), Dha (Docosahexaenoic Acid), Other Omega-3S. Purified Arctic Cod Liver Oil, Rosemary Extract (A Natural Preservatives), D-Alpha Tocopherol, Cholecalciferol In Olive Oil.