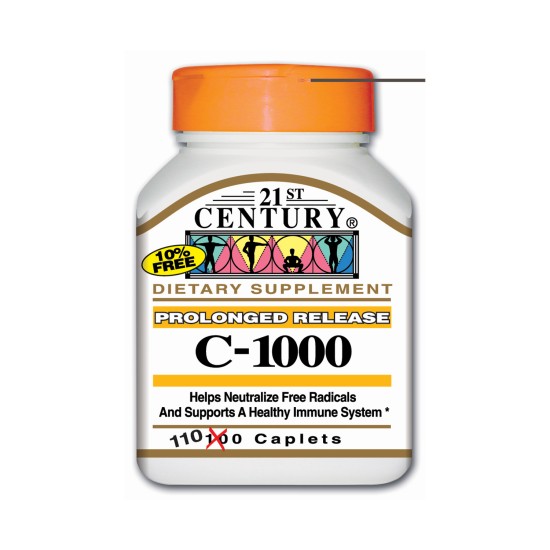 21st Century C 1000mg Prolonged Release 110 Caplets
21st Century
Immune System Support
Free from added Sugar, Salt, Yeast, Preservatives, Artificial Flavors or Colors and Gluten
Vitamin C is an important antioxidant nutrient that helps neutralize free radicals and supports the immune system. Prolonged release vitamins slowly release nutrients into the body over an extended period of time.• Immune System Support.• Prolonged Release.• 10% FREE• Free from added Sugar, Salt, Yeast, Preservatives, Artificial Flavors or Colors and Gluten.
As a vitamin supplement, adults take one (1) tablet daily with any meal or as directed by a healthcare provider. Do not exceed recommended dosage. Individual results may vary.
Vitamin C, Calcium, Cellulose, Stearic Acid, Hydroxypropyl Methylcellulose. Croscarmellose Sodium, Magnesium Silicate, Magnesium Stearate, Maltodextrin, Peg, Polyvinyl Alcohol, Silicon Dioxide, Titanium Dioxide.