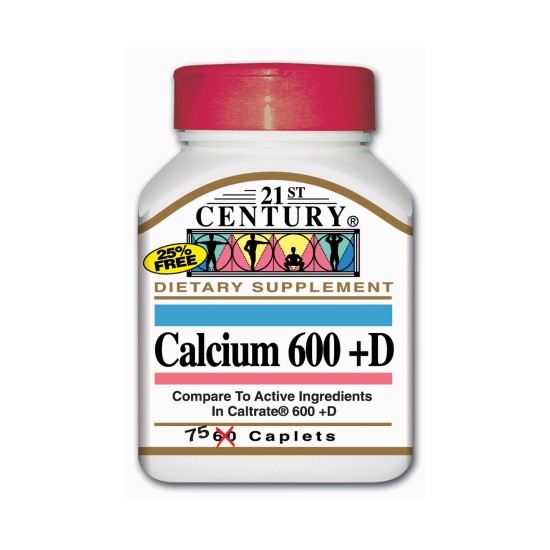 21st Century Calcium 600mg D3 75 Tablets
21st Century
Calcium & Vitamin D3 Supplement
Free from added Sugar or Artificial Flavors
Calcium is an important mineral for supporting bone health. Calcium also works to support muscle and nerve function. Vitamin D3 is added to assist with Calcium absorption and as support for immune function. Adequate Calcium and Vitamin D3 as part of a healthful diet, along with physical activity, may reduce the risk of osteoporosis in later life• Calcium Supplement For Bone & Colon Health.
As a calcium supplement, adults take one (1) tablet with any meal, twice daily or as directed by a healthcare provider. Do not exceed recommended dosage. Individual results may vary.
Vitamin D3, Calcium, Maltodextrin, Croscarmellose Sodium, Bha, Bht, Gelatin, Magnesium Stearate, Peg, Polyvinyl Alcohol, Starch, Stearic Acid, Sucrose, Talc, Titanium Dioxide, Vegetable Oil, Water.