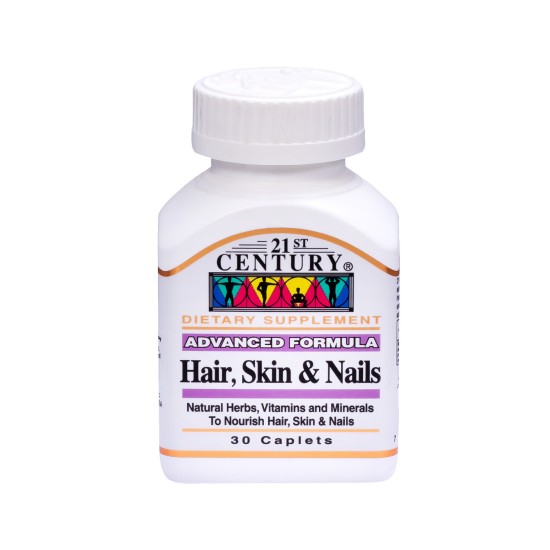 21st Century Hair Skin And Nails 50 Tablets
21st Century
Natural Herbs, Vitamins and Minerals to Nourish Hair, Skin & Nails
Free from added Sugar, Yeast, Preservatives or Artificial Flavors
21st Century's Hair, Skin and Nails is an advanced formula containing natural herbs with vitamins and minerals to enhance beauty from within for today's active women.• Natural Herbs, Vitamins and Minerals to Nourish Hair, Skin & Nails• Free from added Sugar, Yeast, Preservatives or Artificial Flavors.
As a dietary supplement, adults take one (1) tablet with any meal, twice daily or as directed by a healthcare provider. Do not exceed recommended dosage. Individual results may vary.
Vitamin A, C, D3, E, Thiamin, Riboflavin, Niacin, Vitamin B-6, Folate, Vitamin B-12, Biotin, Pantothenic Acid, Choline, Calcium, Iron, Phosphorus, Iodine, Magnesium, Zinc, Manganese, Potassium , Betaine Hcl, Inositol, Paba, Dna, Rna, Tyrosine, Cysteine Hcl, Soy Protein (Amino Acid Blend), Glutamic Acid, Lysine, Leucine, Aspartic Acid, Isoleucine, Valine, Alanine, Arginine, Histidine, Serine, Threonine, Glycine, Ornithine Hcl, Proprietary Herbal Support Blend, Brewers Yeast, Soy Protein, Horsetail Leaf, Parsley Leaf, Rose Hips, Watercress, Kelp, Citrus Bioflavonoids, Lecithin, Rutin, Cellulose, Stearic Acid, Silicon Dioxide,Croscarmellose Sodium, Ascorbyl Palmitate, Bha,Bht, Gelatin, Gum Arabic, Hydroxypropyl Methylcellulose, Magnesium Stearate, Peg, Polyvinyl Alcohol, Starch, Sucrose, Talc, Titanium Dioxide, Vegetable Oil, Water.