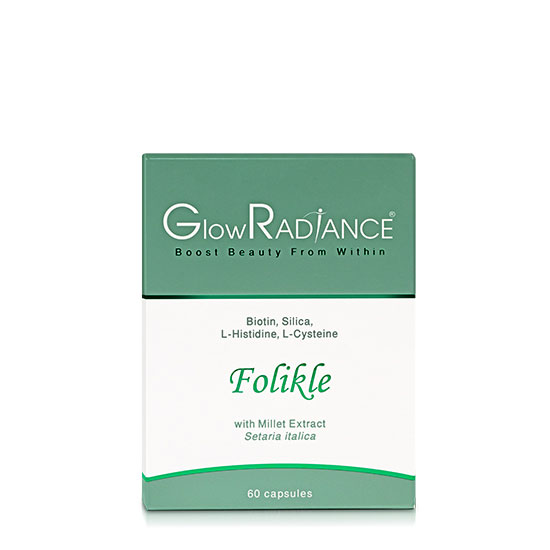 Glowradiance Folikle 60 Capsules Anti Hair Loss
Glowradiance
AED 187.6
AED 268
(VAT inc.)
Reduces hair loss
Proven to enhance nail growth
The results are shiny, lustrous and healthy hair
Increases hair volume, thickness, and diameter
Stimulates regrowth and nourishes your hair from root to tip
Folikle Capsules for stronger and healthier hair. Glow Radiance Folikle Capsule reduces hair loss, stimulates regrowth and nourishes your hair from root to tip. This easy-to-swallow daily supplement feeds your hair all the nutrients it needs to grow healthy and strong. The results are shiny, lustrous and healthy hair. All the necessary nutrients to stop hair hall with the highest concentration in one capsule. Clinically proven to stop hair fall and stimulate healthy hair growth within a few weeks. Increase hair volume, thickness, and diameter. Proven to enhance nail growth.
Two capsules daily with food once daily.
Period: for 90 to 120 days.
Active Ingredients:Grape Seed Extract 15 Mg , Millet Seed Extract 140 Mcg , Thiamine 60 Mg , Horsetail Extract 50 Mg , Silica 60 Mg , L-Histidine 45 Mg , Paba 20 Mg , Ll-Cysteine 20 Mg , Brewer S Yeast 100 Mg , Zinc 15 Mg , Wheat Germ Oil Powder 270 Mg , Biotin 5000 Mcg , Pantothenic Acid 60 Mg , Keratin 20 Mg , Copper 1 Mg.
Frequently Bought Together
Choose items to buy together