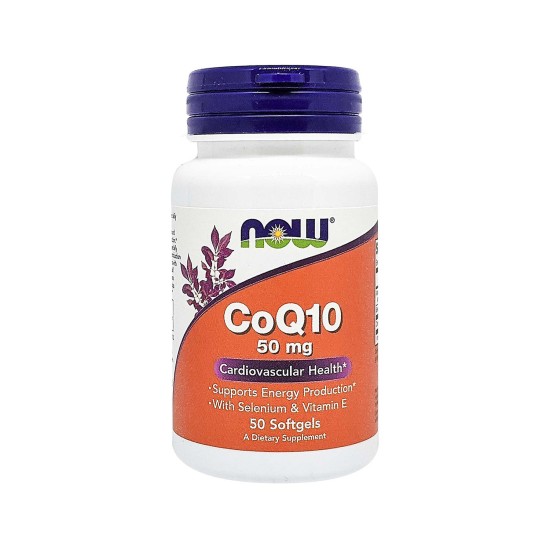 Now Foods CoQ10 50 mg 50 Softgels
Now Foods
Contains no titanium dioxide
Supports energy production
With Selenium & Vitamin E
Kosher certified
Free from wheat, gluten, dairy, egg, fish, shellfish, and tree nut
CoQ10 50 mg Softgels - Cardiovascular HealthCoenzyme Q10 (CoQ10) is a vitamin-like compound that plays a central role in cellular energy production. CoQ10 is found throughout the body, but is especially concentrated in the heart, liver, and kidney and production has been found to decline with age. CoQ10 works with vitamin E as a potent free radical scavenger in cell membranes, as well as within blood vessels. Years of scientific research have shown that CoQ10 helps to maintain a healthy heart and vascular system. NOW uses only the natural, all-trans form of CoQ10. Separation and color variation in the Softgels may occur. This is natural and doesn't affect product quality.• Contains no titanium dioxide. • Supports Energy Production• With Selenium & Vitamin E• Kosher certified. • Free from Wheat, Gluten, Dairy, Egg, Fish, Shellfish, and Tree nut.
Take 1 softgel 1 to 2 times daily with food.
Vitamin E (As D-Alpha Tocopherol) 20 Mg 133%; Selenium (From L-Selenomethionine) 70 Mcg 127%; Coenzyme Q10 (Coq10) 50 Mg , Rice Bran Oil, Softgel Capsule [Bovine Gelatin (Bse-Free), Glycerin, Water, Carob], Beeswax And Soy Lecithin.