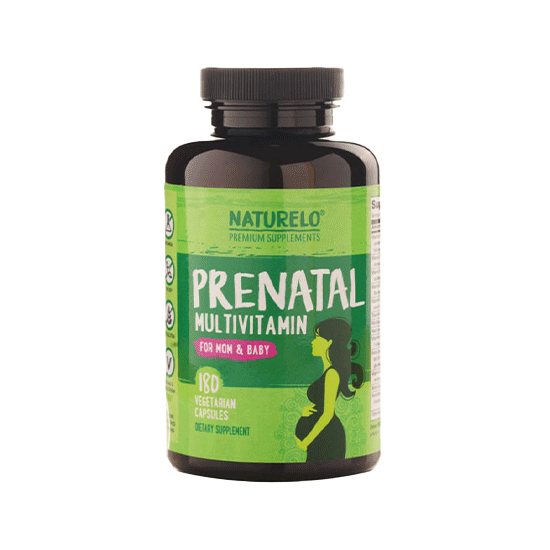 Naturelo Prenatal 180 Ct
Naturelo
AED 235.2
AED 336
(VAT inc.)
Limited Stock!
The perfect choice for pregnant women
Supports a healthy pregnancy
Nourishes the baby's brain, heart, and bones
Promotes mom's health, energy, and wellness
The perfect choice for pregnant women, this multi delivers Omega-3 DHA, plus 29 vitamins and minerals in one complete formula. That way, mom and baby get Nature's full package, from the 1st to the 3rd trimester and all the way through giving birth. This supplement meets pregnant women's increased nutritional needs, providing vitamins (including A, B, C, D, E, K2) and minerals (such as iron, calcium, and zinc) in their most bioavailable forms. For instance, it features the B vitamin folate, not folic acid, and vitamin D as D3, not D2. Unlike some prenatal supplements, our Prenatal Multivitamin is easy to digest because it's made of real food. Carefully developed for the pickiest moms, the formula has no soy and is 100% vegan, gluten-free, and non-GMO! Pure and clean – it does not contain additives or preservatives of any kind.
Take three (3) capsules daily with a meal and a full glass of water.
Amount Per 3 Capsules Vitamin A (As Natural Beta Carotene From Blakeslea Trispora) 1040Mcg Vitamin C (From L-Ascorbate & Acerola Cherry Extract) 120Mg Vitamin D3 (As Plant-Based Cholecalciferol From Wild-Harvested Lichen) 20Mcg Vitamin E (As D-Alpha Tocopheryl From Sunflower) 19Mg Vitamin K2 (As Menaquinone Mk-7) 90Mcg Thiamine (From Thiamine Hcl) 1.4Mg Vitamin B2 (Riboflavin) 1.6Mg Vitamin B3 (As Niacinamide) 18Mg Vitamin B6 [(From Pyridoxal 5 -Phosphate (P-5-P)] 3.4Mg Folate (As Active L-5-Methylfolate) 800Mcg Vitamin B12 (As Methylcobalamin) 4.8Mcg Biotin (As D-Biotin) 55Mcg Vitamin B5 (From Di-Calcium Pantothenatel 10Mg Choline (As Choline L( ) Bitartrate)(Vitacholine) 55Mg Calcium (As Plant-Based Aquamin® From Marine Algae) 255Mg Iron (As Ferrous Bisglycinate Chelate)(Ferrochel) 27Mg Iodine (From Wild-Harvested Kelp) 290Mcg Magnesium (As Plant-Based Aquamin® Magnesium From Marine Algae) 200Mg Zinc (As Zinc Bisglycinate Chelate)(Traacs) 13Mg Selenium (As Selenium Glycinate)(Albion) 70Mcg Copper (As Copper Aminomin) 1.3Mg Manganese (As Manganese Sulfate) 2.6Mg Chromium (From Chromium Polynicotinate) 45Mcg Molybdenum (As Molybdenum Krebs Complex) 50Mcg Potassium (From Potassium Chloride) 80Mg Dha (From Plant-Based Microalgae) 50Mg • Daily Value Not Established