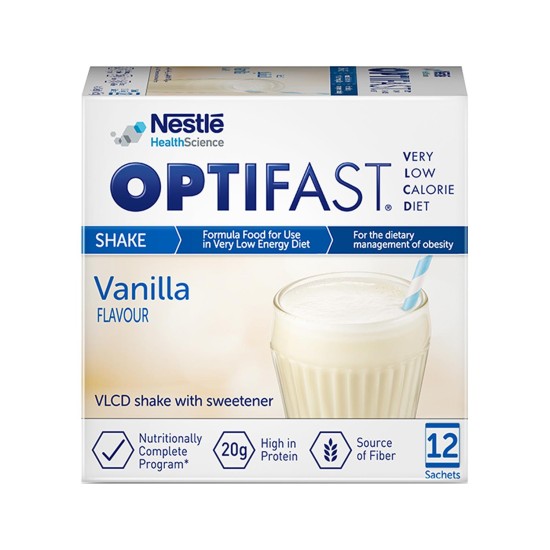 Optifast Very Low-Calorie Diet Shake Vanilla Flavor 12 Sachets - Protein-Rich
Optifast
Limited Stock!
Each Sachet provides 201 Kcal
Easy-to-prepare
High quality, complete nutrition
Pre-portioned and calorie-controlled servings
Provides 100% of the recommended daily allowance for vitamins and minerals
A medication-free way for weight-management
3.6g soluble fiber per serving
The OPTIFAST® VLCD Program is a very low-calorie diet. Reducing your energy intake to below 800 calories per day means your body draws energy from its own fat stores. Very low-calorie diets(VLCD) have been shown to be highly effective in managing obesity. The Optifast LCD Shake can be enjoyed for breakfast, lunch or dinner on the Optifast LCD program. It's high in protein so you feel full for longer and low in calories.
For fast weight loss, you can choose to replace 3 meals each day with OPTIFAST VLCD products. This is the 'Intensive Level' and is the 'very-low-calorie diet' component of the Program, which has been shown to be safe and effective.
For more gradual weight loss, you can choose to replace either 2 or 1 meal each day (Active 2 and Active 1 Levels).
Once you have achieved your weight loss goal, our Maintenance Level will help you maintain your desired weight.
You can Check Optifast Vanilla Shake's nutritional information on the pack back (2nd photo)
Skimmed Milk Powder (36%), Milk Proteins [Calcium Caseinate (13%), Sodium Caseinate (8%)], Inulin, Maltodextrin (Corn), Sugar, Vegetable Oils (Canola, Sunflower), Fructose, Minerals (Potassium Citrate, Sodium Chloride, Magnesium Carbonate, Potassium Phosphate, Tricalcium Phosphate, Ferric Pyrophosphate, Zinc Sulphate, Copper Gluconate, Manganese Sulphate, Sodium Fluoride, Chromium Chloride, Sodium Molybdate, Potassium Iodide, Sodium Selenite), Glucose Syrup (Corn, Wheat or Potato), Medium Chain Triglycerides, Fish Oil, Corn Starch, Flavour (Vanilla, Vanilla Cream flavor), Vegetable Gum (414), Sweetener (Aspartame, Acesulfame Potassium), Emulsifiers (Soy Lecithin, 472c, 471), Vitamins (Ascorbic Acid, Nicotinamide, Vitamin E Acetate, Calcium Pantothenate, Thiamin Hydrochloride, Pyridoxine Hydrochloride, Riboflavin, Vitamin A Acetate, Folic Acid, Biotin, Phytonadione, Cholecalciferol, Cyanocobalamin), Antioxidants (304, 307), Colour (160a). Contains Milk, Soy, Wheat, and Fish. Contains Phenylalanine (not to be used by people suffering from Phenylketonuria). Made on equipment that also processes products containing Egg and Celery.