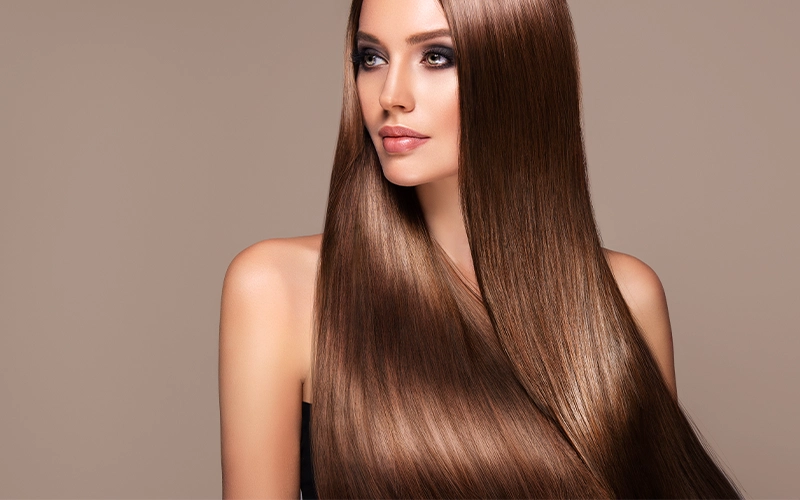 One may prefer to dress their hair in a way to look trendy or classic which would elevate their look, and with long hair, your styling looks the best. Growing out long hair will not happen overnight, still lots of women long to grow their hair longer and faster too. In this blog, we have shared the tips and tricks to be followed to fast forward your hair growth.
Tip 1: Brush your hair in a right way
If your hair is sopping wet air, dry it for about 10 minutes and then you may brush your hair. Always choose the right brush to brush your hair. There are brushes formulated for wet as well as dry hair. Unlike normal brushes wet hair brushes are thin with flexible bristles; feel gentle on your hair without being harsh and detangling your wet hair. You can also choose a wide-toothed comb for wet hair. Is your hair thick or curly or prone to tangles? 'Aesthetic Today' recommends using a hair conditioner or a de-tangling spray to remove any hair strands before brushing your hair. Remember to be gentle on your hair while brushing it.
Tip 2: Say no to hot hair tools!
Heat styling hair tools like curling irons, flat irons, tongs and blow dryers help you to get a fabulous look but they leave your hair fried and frizzled. The damages also include trims and ultimately short hairs when trying to grow your cut hair. 'Aesthetic Today' recommends avoiding heat styling or to use them once in a while with moderate temperatures.
Tip 3: Get your hair trimmed regularly
Trimming your hair regularly essentially helps you to get rid of some hair damage like broken and split ends and promotes healthy hair growth. Trimming also helps to de-tangle your hair. 'Aesthetic Today' recommends following a six to eight weeks trimming schedule or whenever you see damaged hair ends to avoid further breakages with weaker strands.
Tip 4: Know the benefits of air-drying your hair
Remember air-drying your hair has a lot of benefits! Air-drying retains moisture in your hair more than a blow dryer which works faster to remove moisture from your hair. If you need to grow hair longer at a faster pace you should be careful indeed to avoid breaking your hair by rubbing your wet hair in a microfiber towel to remove excess moisture and prevent any frizz or breakage. Just wrap your hair in a towel and see the magic it does. 'Aesthetic Today' recommends using hair serums available on our website on a busy day to dry your hair faster with a moisturized look and to create healthy locks. Happy air drying!
Tip 5: Stop using rubber bands
Usage of rubber bands to your hair may cut your hair with a split or break, instead try out crease-free fabric alternatives, as well as the coil bands available in the market to style your ties preventing tension and breakages to your hair. 'Aesthetic Today' advises avoiding the use of rubber bands as it prevents hair growth.
Tip 6: Don't bleach your hair
Bleaching your hair repeatedly by exposing them to numerous chemicals can damage the cuticles which may leave the hair dry, and brittle and break your hair causing split ends.
Tip 7: Take care of your scalp
As with your skin, scalps also suffer from dryness, flakiness, and clogged pores and follicles. How to avoid such conditions on your scalp? Many innovative hair care brands in 'Aesthetic Today' with certain functions, formulas, and ingredients help to care for your scalp in the form of scalp scrubs, moisturizing masks, and even serums. Keep your scalp healthy for healthy hair growth.
Tip 8: Intake of minerals & Vitamins rich foods
Proteins, Vitamins, and minerals help to improve your hair growth by stimulating hair follicles. It matters to nourish your hair follicles from the inside is important as using the right hair care products from the outside. Not sure about in-taking the right amount of key nutrients from your food? Talk to a doctor to find the supplements which are missed out in your diet.
Tip 9: Leave away your stress
Don't risk losing your hair and loading your head with stress. Sign-up for a yoga class, go on a run, play your favorite outdoor games, and so on. Finally, relax yourselves, take time to have fun, and look forward to a longer and healthier head with lots of hair.
Tip 10: Protect your hair while sleeping
Opt for silk pillowcases while sleeping instead of cotton ones as cotton pillowcases absorb moisture-generating friction which causes tangles and breakages. A silk pillowcase not only makes you feel luxurious but also prevents friction and helps to retain your hair moisture.
Tip 11: Avoid processed foods
As we know unprocessed, tinned, oily foods can damage the human system and even your hair follicles. Fill your plate with some whole healthy and unprocessed foods every day to make your hair stay healthy, hydrated, and lustrous as they grow longer.
Tip 12: Wisely choose the right hair care products and devices:
With so many hair care products sprouting day by day on the planet, it becomes of utmost importance to know the texture of your hair to get the right shampoo, conditioners, serums, gels, and so on with efficacious ingredients to strengthen and hydrate your hair. You can also follow an energizing treatment schedule to penetrate deep into your scalp by nourishing hair follicles thus helping your tresses to grow longer and stronger at a faster pace.
Wrapping Up:
Wondering which products or brands help you to achieve long, lustrous, and healthy hair? 'Aesthetic Today' is an ultimate hub stacking out the most popular brands and products specially formulated to care for your hair. Explore our "HAIR CARE '' tab to find arrays of hair care products and start picking up products that perfectly suit your hair. Experience unique shopping with 'Aesthetic Today' with a touch of a button, we will deliver the products ordered to your doorstep. Start filling your cart!