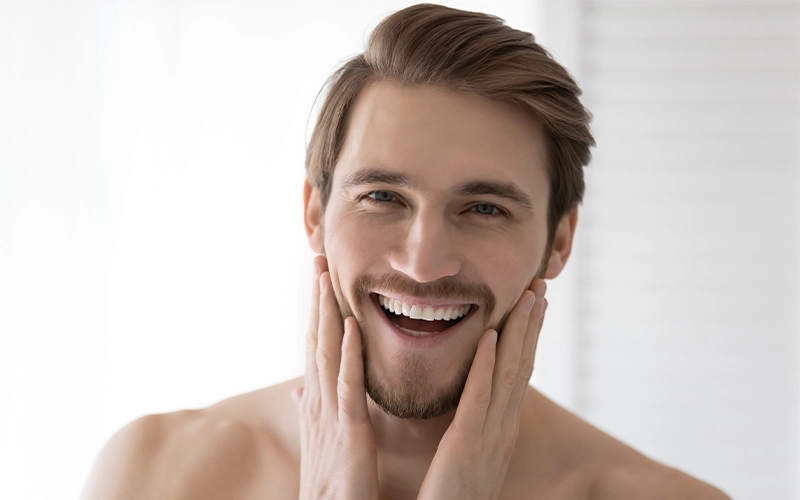 No matter what the gender is, life always brings tension and stresses that can impact the appearance of our skin and how confident we feel. In terms of skincare, men have traditionally kept it simple. Although more men are seeking younger-looking skin, now is the perfect time to reevaluate your skin care regimen and find out how to maintain healthy good looking skin.
Today, we have a variety of advanced treatments that can assist you in restoring a youthful glow and enhancing self-confidence. Despite the differences in men's and women's skin, the basics of effective skincare remain the same.
Let's take a closer look at the top beauty treatments for men:
1) FACIAL HYGIENE: Men have thicker skin than women do and men's skin tends to be oilier, so facial hygiene is most important for them to keep skin healthy. Regular cleansing and exfoliation are important for men as face scrubbing softens and tones their skin, preventing excessive dead skin buildup that makes your skin look tired, & dull. Plus, cleansing & exfoliation is great for your skin pre-shave as it allows you to get an ultra-close, smooth shave and lower the risk of developing ingrown hairs.
2) ANTI-AGING TREATMENTS: Getting your skin to reach envy-worthy levels can require a lot of skincare and advanced treatments. A chemical peel is one such anti-aging treatment for men which encourages the skin to regenerate and look fresher, smoother, and younger. From managing acne to sun damage, pigmentation, and scarring, chemical peels for men are useful in different ways.
3) ANTI-ACNE TREATMENTS: Dealing with acne is annoying. Acne-prone and oily skin is a common concern for both men and women. Fortunately, various advanced treatments can improve acne conditions and enhance the appearance of the skin. One such treatment preferred by men is the Azelan mild topical treatment. Azelan which has azelaic acid has antimicrobial and anti-inflammatory properties, which make it effective in acne treatment. The Azlan treatment not just gives you clearer, hydrated skin but also helps to combat pigmented lesions that have been caused by acne.
4) ANTI-DARK CIRCLE TREATMENTS: Just like women, even men get dark circles under the eyes which tend to make them look tired, less youthful, older, and less energetic, or in need of more sleep. Medical treatment for dark circles is a way that you can take to replenish your skin and one such treatment is called Global Eyecon. This is a specific advanced, professional treatment to fight the signs of dark circles, aging, and fatigue in the eye area. It corrects problems like wrinkles, under-eye bags, circles, pigmentation, sagging, etc. among men.
5) DEPIGMENTING TREATMENTS: In men, depigmentation of the skin can be caused due to several local and systemic conditions. Even though the root causes of pigmentation are not crystal-clear, some basic possibilities are hormone sensitivity, stress, thyroid-related diseases, sun exposure, etc. Now the use of Melan tran3x reduces melanin-based blemishes & helps correct pigmentation imperfections. Melan tran3x which has tranexamic acid acts on excessive epidermal pigmentation to visibly reduce dark spots & give a more uniform skin tone.
6) LIP HYDRATION: Men's lips are also prone to conditions like dryness, cracking, aging, deep line formation, etc. if they're not taken care of. To restore the structure, & softness, men now prefer the cross-linked hyaluronic acid filler techniques that provide the hydration to give your lip, a softer look that is not necessarily voluminous.
7) MEDICAL CORRECTION OF DARK CIRCLES: Even though dark circles are not that dangerous, people tend to get affected by their confidence. Dark circles and bags under the eyes are usually cosmetic concern that has a specific treatment. These days require specific treatments which give an instant rejuvenating effect. Another way to improve the appearance of the eye area is to use cross-linked hyaluronic acid, local depigmenting agents, or mesotherapy with biomimetic peptides.
8) CHIN CORRECTION: For many men, a well-defined, strong chin is thought to give them an impression of masculinity and virility. As the symmetry and proportion of the chin are one of the main contributing factors to frontal facial balance, men these days prefer techniques related to chin correction. Such treatments can include genioplasty, chin implants, or correction using cross-linked hyaluronic acid which instantly rejuvenates the skin & gives spectacular results.
9) INJECTING BOTULINUM TOXIN: Botox treatment which involves botulinum toxin injections is one of the most popular skin treatments among both men and women. Botox and botulinum toxin injections like Xeomin & Dysport are the most popular anti-aging methods for men. Among men, Botox injections are commonly used to reduce wrinkles on the face. This treatment is commonly done in areas like the corners of the eyes, between the eyebrows, in the forehead to reduce creases, and around the mouth to target laugh lines.
10) HAIR MESOTHERAPY: Hair loss is the main concern for many men and in recent years the Hair Mesotherapy treatment has become recognized as a viable 'non-surgical' treatment option for men who are suffering from loss of hair generalized thinning, receding hairlines, etc.
Closing Thoughts:
It's not exactly surprising that men are increasingly seeking out the help of cosmetologists to reach their aesthetic goal of being handsome. Currently, it's an undisputed fact that more men are trying out advanced beauty treatments as well as getting cosmetic procedures done. Whether you are male or female, feeling good and self-confident about yourself is the first step to looking good. When you feel good, automatically it radiates on your face. So, spend time looking after yourself by booking an appointment with a specialist nearby.
Are you in search of beauty products online? Aesthetic Today, the ultimate hub for beauty shopping online for both men and women comprises premium, quality, and highly selected skincare brands at great prices, and extraordinary discounts which are delivered straight to your doorstep. From skincare to haircare, vitamins, and other cosmetics we provide a unique and exclusive shopping experience for our customers in the United Arab Emirates.