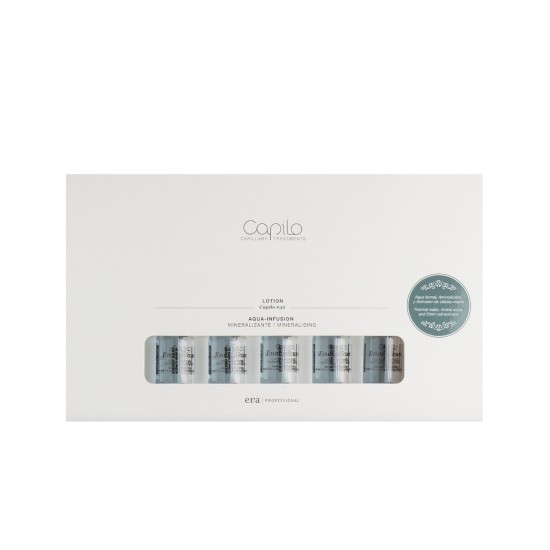 Eva Professional Hair Care Capilo Energikum Aqua-infusion 32 Temporary Hair loss Lotion 10 x 7ml Ampoules
Eva
Hair Loss treatment Vials
Enriched with Selenium & Zinc
This restorative scalp treatment is infused with the combined action of thermal spring water, amino acids, minerals, and a stem cell activator. Slow shedding and get hair regrowth back on track by toning the scalp and restructuring hair at the root to give lasting vitality.
Start with towel-dried hair. Remove the plastic seal from the vial and attach the included applicator to the end. Begin by parting the hair in the center of the head and apply the lotion directly to the exposed scalp. Continue parting the hair in 1-inch increments and applying the lotion to the scalp until the scalp has been completely covered and you have used the entire vial. Massage the scalp thoroughly with the fingertips in circular motions to stimulate microcirculation and aid in absorption. Do not rinse. Unless indicated otherwise by a professional, apply the treatment twice a week. Length of treatment: 3 to 6 months, depending on the type of problem and level of persistence.
Thermal spring water: soothes and protects the scalp while moisturizing the hair to increase shine and flexibility. Vitamins: minerals like zinc, selenium, iron, and magnesium give the hair an added boost amino acid concentrate: works to increase hair's elasticity and strength by fortifying and revitalizing the hair's structure. Stem cell activator: boosts stem cell activity. Stops hair loss. Redensifies and strengthens the hair.