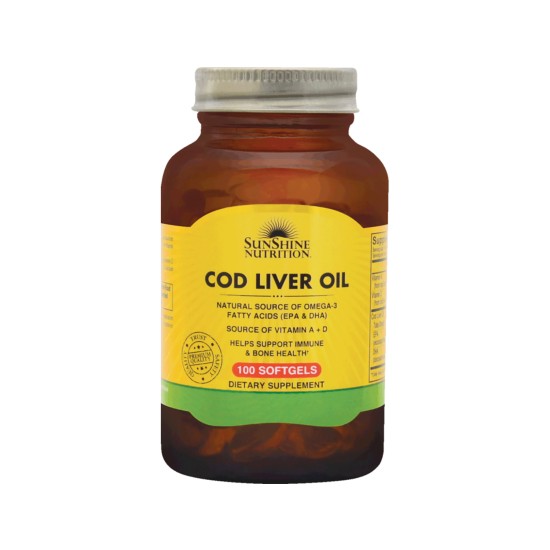 Sunshine Nutrition Cod Liver Oil 100 Softgels
Sunshine nutrition
AED 47.6
AED 68
(VAT inc.)
Helps maintain strong bones and teeth
Helps relieve joint stiffness
Has a positive effect on cardiovascular health
Helps repair wounded teeth, nails, hair, and skin
Supports eye health and prevents macular degeneration
One of the best natural sources of Omega-3 fatty acids (EPA and DHA) with relatively good amounts of Vitamin A and Vitamin D. Vitamin A is important for the eyes, skin and immune function whereas Vitamin D helps maintain strong bones and teeth by enhancing the absorption of Calcium and Phosphorus.
Cod liver oil is found to help relieve joint stiffness associated with arthritis, have a positive effect on cardiovascular health, and help repair wounded teeth, nails, hair, and skin.Several studies have suggested that omega 3's support eye health and prevent macular degeneration.
Other nutrients that have been found to be helpful in preventing age-related Macular Degeneration are carotenoids, which can minimize the damage and reduce the risk of developing the said medical condition. Cod liver oil is also high in carotenoids. The difference between cod liver oil and regular fish oils is that fish oils are extracted from the tissue of deep sea oily fish such as tuna, trout, mackerel, herring, salmon and cod. By contrast, cod liver oil is extracted solely from the livers of cod.
Cod liver oil contains lower amounts of omega-3 fatty acids than regular fish oils, but larger amounts of vitamins A
As a dietary supplement for adults, take one (1) to two (2) softgels daily, preferably at mealtime or as directed by the healthcare practitioner.