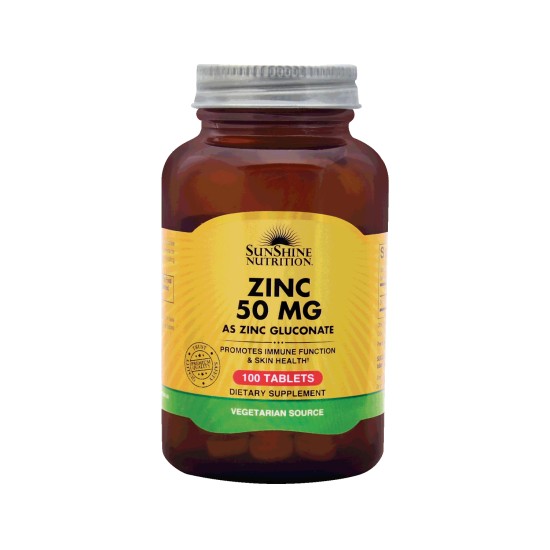 Sunshine Nutrition Zinc 50mg 100 Tablets
Sunshine nutrition
AED 53.2
AED 76
(VAT inc.)
Limited Stock!
Overall good health
Supports antioxidant function
Helps maintain healthy hair, nails, and skin
Zinc is called an "essential trace element" because a very small amount of zinc is necessary for human health. Sunshine Nutrition Zinc 50 mg Tablets provides Zinc in its Gluconate form which helps to meet your daily requirements of this essential mineral for overall good health. Zinc supports antioxidant function and helps maintain healthy hair, nails, and skin. It is also used for boosting the immune system, treating the common cold, and preventing lower respiratory infections. Zinc plays a key role in maintaining vision, and it is present in high concentrations in the eye. Zinc deficiency can alter vision, and severe deficiency can cause changes in the retina. Not All Zinc is Created Equal: Cellular absorption of Chelated forms of Zinc such as Zinc Gluconate is much higher than zinc oxide and Zinc Sulphate. That is why Sunshine Nutrition Zinc is formulated with 50mg of high-quality Zinc Gluconate which gives you all the required amount of this essential trace mineral to maintain overall good health.
As a dietary supplement for adults, take one (1) tablet daily or as directed by the healthcare practitioner.